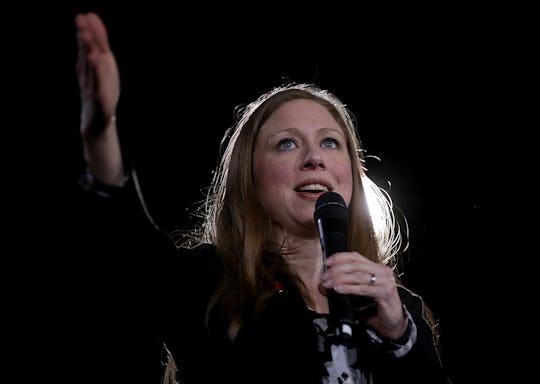 Justin Sullivan/Getty Images News/Getty Images
Chelsea Clinton Gives Birth To Son & Says She's Feeling All The Love
It's a big day for the Clinton family. Chelsea Clinton gave birth to a son, Aidan, she announced on Saturday morning. She wrote on Twitter, "Marc and I are overwhelmed with gratitude and love as we celebrate the birth of our son, Aidan Clinton Mezvinsky," just before noon on Saturday. Her and her husband, Marc, also have a daughter, Charlotte, who is almost two years old. (I'm secretly hoping that Chelsea, with Aidan and Charlotte, is a closet Sex and the City fan.)
Chelsea, who has been accompanying her mother, former Secretary of State Hillary Clinton on the campaign trail, announced her pregnancy late in 2015 via a tweet with a picture of Charlotte, saying that she was going to be a big sister and "feeling grateful" during the holiday season. At the time, Hillary Clinton tweeted that she was "so excited to meet our second grandchild!"
But just because grandma was stoked, doesn't mean that everyone in the family was ready for a new addition to the family. Chelsea joked earlier this year that it was taking some time for her to understand the concept. "I don't think she has any idea what that means yet, but we're talking about it a lot," Clinton said.. "She says 'Baby,' and then points to herself!" Which, at 21 months old, she technically is.
Charlotte and Chelsea's pregnancy this year was a topic for her mother's campaign trail and the arrival of little Aidan is sure to come up as Hillary heads to the convention in Philadelphia this July and the general election. The presidential candidate has said that being a grandmother is the "biggest joy," according to People. And she also likes watching Chelsea use some of her techniques. "I also occasionally feel a little bit happy that I kind of see something coming back that I maybe did or said," she said.
Imitation is flattery, especially when it comes to parenting. Chelsea admitted as such, saying on Mother's Day that she hopes to give both of her children the same "imagination and kind of sense of possibility that my mom gave me."
As a mother and a grandmother, Hillary has made issues surrounding motherhood and children, like coverage for affordable child care costs and immigration reform to keep families together, a very big part of her platform.
Although it might be some time before we get to see tiny Aidan on the campaign trail, he's bound to be stumping for his grandma eventually.