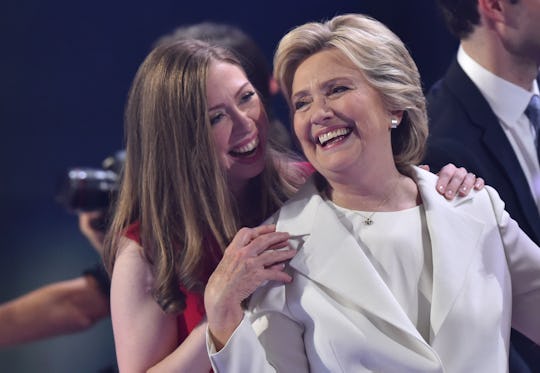 NICHOLAS KAMM/AFP/Getty Images
Chelsea Clinton Hopes To Be Just Like Hillary & Be A Role Model For Her Children
Chelsea Clinton has a lot to be proud of. Not only is she the mother of two children and has an amazing education and job but she also has her parents to be proud of — former President of the United States Bill Clinton and current Democratic party nominee, Hillary Clinton. But even with an incredibly successful life for herself, Chelsea Clinton hopes to be just like Hillary — just not in the way that one would expect.
During a co-hosting stint on The View, Chelsea lent her opinion to a variety of topics — as the hosts of The View naturally do. But perhaps where her voice was heard the most was on the topic of politics — more specifically, her mother (a topic she's an expert in). Chelsea gave glowing reviews of her mother and discussed the public's perception of Hillary. But more than that, Chelsea gave insight as to how much she trusts her mother. "There is no one I trust more than my mother," Chelsea told the hosts. "If, God forbid, anything were to happen to Mark and me, my mother would take care of my children." Even more telling was how she aspires to be a role model for her own children, just like Hillary was — and still is — to her:
Now, as a mom — I have two little kids, Charlotte who turns 2 later this month, and her baby brother Aiden, who's two-and-a-half months. I hope my children are as proud of me as I am of my mom someday.
Chelsea's children will have a lot to be proud of one day. In addition to campaigning for her mother, Chelsea is the Vice Chair of the Clinton Foundation — a foundation that works to "improve global health and wellness, increase opportunity for girls and women, reduce childhood obesity, create economic opportunity and growth, and help communities address the effects of climate change." These issues are incredibly important ones worth addressing — and as an advocate for the work of the foundation, Chelsea knows this first hand.
This is not the first time Chelsea has cited her mom as a parenting role model. In Chelsea's most recent book, It's Your World, Chelsea has similar words to say about her mom. "I just hope that I will be as good a mom to my child, and hopefully children, as my mom was to me," Chelsea writes.
There is no doubt that Chelsea can be just as big of a role model for her two young children one day. But does Chelsea hope to be just like her mother and run for office one day as well? Not quite. At an event for The Clinton Foundation in April, Chelsea told Access Hollywood that she has no immediate plans to go into politics any time soon — a question she has been asked her entire life — stating that she would have to be unhappy with the people in office to want to run for office and make a change. "For now, I'm well represented and love what I do," Chelsea said.
While Chelsea hasn't set her sights on running for office — like her mother — just yet, she has set her sights on being a terrific mom — which is definitely achievable.