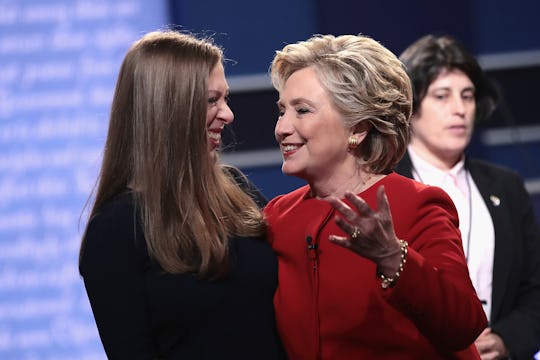 Drew Angerer/Getty Images News/Getty Images
Chelsea Clinton Just Shut Down Fox News For Calling Hillary A Bad Mom
Shortly after a Fox News contributor said that Hillary Clinton would "literally sell her daughter" to become the next President of the United States, Chelsea Clinton stood up for her mother and perfectly shot down those horrendous claims. On Saturday morning, the former first daughter came to her mother's defense on Twitter in response to cruel comments made by Lisa Boothe on a recent segment of The Five.
"[She] would literally sell her daughter to be president, literally sell her only child to be president," Boothe reportedly said during a discussion about the latest developments between the Russia and President Donald Trump controversy, according to The Hill.
Clinton very quickly stepped in and fired back at Boothe's insulting — and pretty confusing — comments with an eloquent and composed response.
"No, she wouldn't. I've never doubted & always known I was the most important part of her life," Clinton, who has two children herself, tweeted on Saturday. "Now as a mom I'm even more grateful to my mom."
According to segment of the panel shared by journalist Yashar Ali on Twitter, Boothe also called the former Secretary of State and Democratic presidential nominee "the most soulless woman on this planet."
Watch the clip below:
And Clinton wasn't the only one shocked by Boothe's declarations. In fact, many people on social media were outraged and puzzled by the Fox News host's comments, with one writing: "If @LisaMarieBoothe were my daughter, I'd literally trade her for a pencil, something actually capable of having a real point."
The younger Clinton frequently takes to Twitter to voice her concerns with the Trump administration and — in recent months — has been compelled to defend her mother on other occasions as well.
For instance, just last week, the 37-year-old tweeted the president after he responded to backlash that his eldest daughter, Ivanka Trump, briefly sat in for him during a session at the G20 summit in Hamburg, prompting outrage about the Trump family's unorthodox involvement in the White House.
"When I left Conference Room for short meetings with Japan and other countries, I asked Ivanka to hold seat. Very standard. Angela M agrees!" Trump tweeted earlier this week. "If Chelsea Clinton were asked to hold the seat for her mother, as her mother gave our country away, the Fake News would say CHELSEA FOR PRES!"
Less than an hour later, Clinton penned another spot-on response: "Good morning Mr. President. It would never have occurred to my mother or my father to ask me. Were you giving our country away? Hoping not."
Politics is a vicious game and people will say some harsh things to get noticed. And Boothe's heinous comments definitely fit the bill, although the reason she said them still doesn't make much sense. But it is very clear that —which history has taught us before — Clinton will not stand idly by and will step in with a perfect tweet when needed.