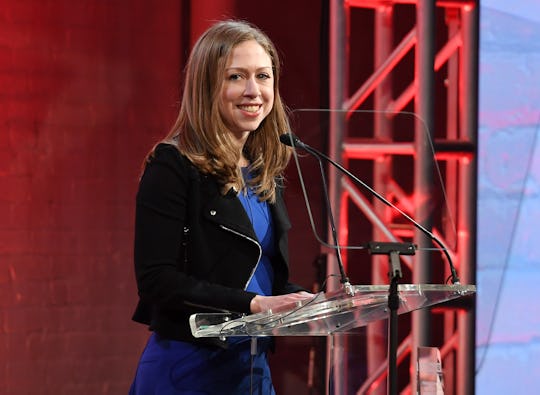 Dimitrios Kambouris/Getty Images Entertainment/Getty Images
Trump Attacks Chelsea Clinton In G20 Response About Ivanka
President Donald Trump has come under fire for asking his daughter, Ivanka Trump, to sit in for him during a meeting of world leaders at the G20 summit in Germany Saturday, where she was photographed sitting between British Prime Minister Theresa May and Chinese President Xi Jingping after her father stepped out for other meetings. Critics have argued that the decision breached protocol and raised serious concerns about nepotism, but when Trump tried to explain Ivanka sitting in for him at G20 in a tweet Monday morning, he inexplicably chose to defend his actions by making a quip about Chelsea Clinton. But thankfully, Clinton had the perfect response.
According to The Hill, Trump responded to the backlash by arguing that his decision to have Ivanka, an unpaid adviser to the president, briefly hold his seat at the meeting was "very standard," and that German Chancellor Angela Merkel — whom the president referred to as "Angela M" — agreed with him. And that more or less appeared to be the case: according to Reuters, Merkel said Sunday that it was ultimately up to "the delegations themselves" to determine who would fill in for a leader, and that Ivanka was, by definition, part of the United States delegation.
Unfortunately though, Trump didn't stop there. In a follow-up tweet, the president couldn't help but take a swipe at his one-time political rival, former Secretary of State Hillary Clinton, and wrote, "If Chelsea Clinton were asked to hold the seat for her mother, as her mother gave our country away, the Fake News would say CHELSEA FOR PRES!"
Even though Trump's Chelsea Clinton tweet was, at best, totally unnecessary (and, at worst, completely uncalled for), Clinton didn't hesitate to hit back. The former first daughter retweeted the president's message, and wrote, "Good morning Mr. President. It would never have occurred to my mother or my father to ask me. Were you giving our country away? Hoping not."
Although Trump may not have thought there was anything wrong with giving his seat to Ivanka, opinions on the matter have been mixed. Former NATO Ambassador Nicholas Burns told The Washington Post, for example, that if the president has to leave, the secretary of state is expected to fill his seat, noting that "authority is not conferred upon family members because of the president's position."
Others were less diplomatic in their assessments. According to The Independent, Democratic Congresswoman Maxine Waters told MSNBC that it "[did] not make good sense" to have Ivanka take the president's seat "at a very important meeting that she knows nothing about," while an unnamed European official present at the G20 was also quoted by The Washington Post as saying that the situation "smacks of the kind of nepotism not seen since John F. Kennedy named Robert F. Kennedy as attorney general."
Ivanka's presence wasn't actually limited to simply sitting in her father's seat, however. According to Reuters, Ivanka also helped launch a public-private loan program with the World Bank designed to support women entrepreneurs in developing countries — and it was something Trump didn't shy away from publicly praising his daughter for in front of the World Bank leaders. According to Reuters, the president called Ivanka "a champion," and said, "if she weren't my daughter, it would be so much easier for her."
Of course, if she weren't Trump's daughter, Ivanka likely wouldn't have been present at the G20 meeting at all — nor would her husband, Jared Kushner, who is currently serving as a senior White House adviser. According to The Washington Post, the couple joined Trump at a meeting with Merkel on Thursday, and the following day Kushner also attended a meeting with Mexican President Enrique Peña Nieto.
Regardless of the controversy surrounding Ivanka's involvement at G20 though, the fact that Trump opted to take a dig at Clinton as a way of explaining his decision seemed like little more than a bad deflection technique. If the president did feel justified in asking his daughter to sit in for him, then there was little need for him to follow up with his critical Clinton tweet. But the fact that he did it anyway made it seem like yet another petty comment meant to do little else but rile up the already deep political division existing among voters throughout the country.