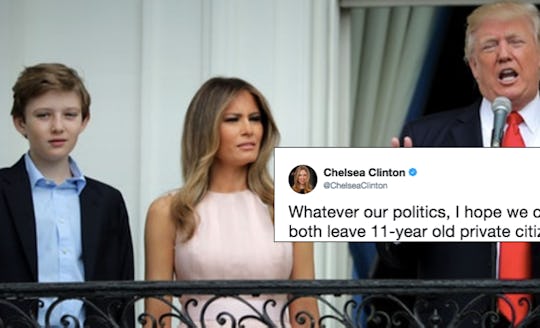 Chip Somodevilla/Getty Images News/Getty Images
Chelsea Clinton Wants You To Leave Barron Trump Alone — No Matter What Your Politics Are
Everyone knows that growing up isn't easy, especially during those preteen years. But when you're a preteen and your father is the President of the United States, things can be particularly hard. Take it from Barron Trump, Donald Trump's 11-year-old son who has constantly been put down by people, not for his actions, but just for the fact that he is Trump's son. The good thing is, Barron has people to defend him, like fellow first child Chelsea Clinton, who wants people to leave Barron Trump alone. Based on the experience she has, I think it would be a good thing for people to listen to her.
During the 2018 State of the Union, people tuned in to see if Trump would fail or succeed at delivering one of the most important speeches a president gives, in which he addressed the successes and priorities for our country. But some people were tuning in to mostly see what meme-able moments Trump's speech would inspire. Instead of making jokes about the president (who takes hits from others daily), however, others were making jokes about people in attendance who didn't really need to be a punchline.
Before the State of the Union aired, White House Press Secretary Sarah Huckabee Sanders said, during a press briefing on Monday, that Barron would not attend the speech. In spite of knowing this, people made fun of the fact that Barron wasn't there, and some even joked that Barron was "recast" by First Lady Melania Trump's special guest, Preston Sharp.
But Clinton was not here for these jokes; the former first child took to Twitter to respond to these tweets poking fun at Barron's expense to not only defend him, but Preston, too. Clinton has a point — Preston should not have to be subjected to being in people's jokes and should instead, be recognized for the reason why Melania invited him to the State of the Union in the first place. Her bottom line? Leave both of these boys alone, because they're both just kids.
"Whatever our politics, I hope we can leave 11-year-old private citizen Barron Trump and celebrate 12-year-old Preston Sharp for his work to honor the graves of every military veteran," Clinton tweeted.
In case you needed a reminder, Barron is Trump's youngest son he shares with Melania. Shortly after Trump was inaugurated as President of the United States last year, the White House called for people to respect Barron's privacy. The White House said, according to Variety:
It is a longstanding tradition that the children of Presidents are afforded the opportunity to grow up outside the political spotlight. The White House fully expects this tradition to continue. We appreciate your cooperation in this matter.
Preston Sharp, is not related to the president but gained national attention this year after his goal to place an American flag on the grave of every veteran in the United States gained national attention. Preston has already raised over $43,000 towards his goal — and the attention from the Trumps will certainly help him get there.
But if Clinton coming to the defense of Barron sounds familiar, it is because she has done this many times in the past, standing up for him when he couldn't himself. When Trump first entered the White House last year, according to Us Weekly, Clinton called on her Twitter followers to stand up for every kid, including Barron who "deserves the chance that every child does." Eight months later, Clinton defended Barron again after an op-ed published online, according to Us Weekly, criticized the way Barron dressed (really). "Let him have the private childhood he deserves," Clinton tweeted in August.
Clinton knows the scrutiny that first children face, firsthand. Clinton was just 12 years old, according to People, when her dad, Bill Clinton, was elected to be the 42nd President of the United States. Her parents "made a conscious effort" to give her "a normal childhood," according to People, but was made fun of on Saturday Night Live and by other critics of her father.
This is why her defense for Barron is all the more important. Clinton knows firsthand just how these words can hurt and just how hard growing up in the White House can be. By being a champion for Barron, Clinton shows that compassion is one thing that can be extended beyond party lines and something that should be practiced daily. She knows this a little too well.
Disclosure: Chelsea Clinton's husband Marc Mezvinsky joined Social Capital, an investor in Bustle Digital Group, in mid 2017 and joined the Board of Bustle Digital Group in early 2018.
Check out Romper's new video series, Romper's Doula Diaries:
Watch full episodes of Romper's Doula Diaries on Facebook Watch.