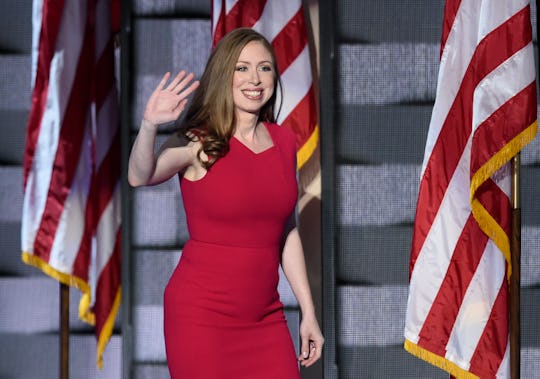 SAUL LOEB/AFP/Getty Images
Chelsea Clinton's Speech & Ivanka Trump's Speech Differed In One Huge Way
Chelsea Clinton, daughter of Democratic presidential nominee Hillary Clinton, took the stage at the Democratic National Convention on Thursday night to talk about her mother's important role in her life and in the lives of millions of people who have been affected by her mother's service. When compared side by side, Chelsea Clinton's speech and Ivanka Trump's speech differed in one huge way: Chelsea's speech followed a theme of love and service, whereas Ivanka's speech seemed to attempt to build up how Trump would help America "win."
Chelsea focused on her mother's love for service and on Clinton's dedication as a mother and grandmother. She said that her mother wanted every child to feel valued in the same way that Clinton made Chelsea feel valued. She also said, recalling Clinton's famous line, that her mom realizes that "women's rights are human rights, and LGBT rights are human rights." Chelsea's speech was, beautifully, about love. It was about her love for her mother and about her mother's love for service to the country.
That contrasted strongly with the theme of Ivanka's speech. By contrast, Ivanka talked about her father's dedication to his business career. She began the speech, according to TIME:
I have seen him fight for his family. I have seen him fight for his employees. I have seen him fight for his company. And now, I am seeing him fight for our country. It's been the story of his life and more recently the spirit of his campaign. It's also a prelude to reaching the goal that unites us all. When this party and better still this country knows what it is like to win again.
And Ivanka was being accurate: Donald Trump does fight. It's what he's well known for. He fights relentlessly, but does he do it out of a drive for service? That seems to be an important question because, at it's root, the presidency is a service position. It requires great sacrifice along with power. It's not actually about the power — that's something Trump seems to forget. It's really about making life better for the 319 million people who live in the United States.
The importance of that service and of Clinton's pure, genuine love for that service was the main focus of Chelsea's speech. She focused on love:
There's something else that my mother taught me: Public service is about service. And as her daughter, I've had a special window into how she serves. I've seen her holding the hands of mothers worried about how they'll feed their kids, worried about how they'll get them the health care they need. I've seen my mother promising to do everything she could to help. I've seen her, right after those conversations, getting straight to work, figuring out what she could do, who she could call, how fast she could get results. She always feel like there isn't a moment to lose, because she knows that for that mother, for that family, there isn't.
Ivanka ended her speech with what Trump has "earned," while Chelsea ended her's on a message of humility and humbleness; grace and, again, love. She even directed a message to her mother:
Mom, grandma would be so proud of you tonight.
Chelsea seemed to know that her mother's policies are clear. The experience her mother has as a former Secretary of State and a former senator of New York speaks for itself. Chelsea didn't need to build up her mother's dedication to public service — though she did that anyway — so, instead, Chelsea focused on the one thing that Clinton seems to have that Trump doesn't: love for everyone and for the country as it is. No walls, no bans, no mean names, no hate — just love.