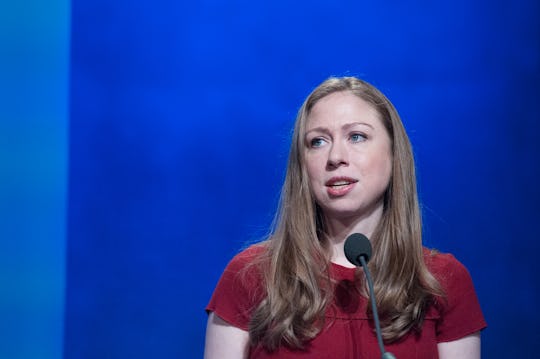 Stephanie Keith/Getty Images News/Getty Images
Chelsea Clinton's Tweet About Donald Trump Jr.'s Divorce Is So Spot-On
Donald Trump Jr. isn't exactly the most likeable of the Trump children — his snarky social media posts are often eye-roll-inducing, and let's not even discuss the infamous trophy hunting photos — so it may be easy to feel at least a bit smug now that his wife, Vanessa, has filed for divorce after 12 years of marriage. But as parents of five young children, the Trumps have found an ally in someone who knows exactly what it's like to live under the White House microscope: Chelsea Clinton's statement about Donald Trump Jr.'s kids is an incredibly valuable reminder that his divorce is far more than being just another salacious headline. And even if we disagree with Trump Jr.'s opinions and political views, that's hopefully something we can all agree on for the sake of his children's well-being.
News of the couple's split came to light Thursday, when The New York Post reported that Vanessa Trump filed for divorce in a Manhattan court. The Trumps then released a joint statement stating that they "will always have tremendous respect for each other," and they also asked for privacy for their "five beautiful children together [who] remain [their] top priority." Naturally, the announcement quickly made headlines around the world, but Clinton was quick to respond with some wise words on social media. The former first daughter wrote, "Please respect the privacy of President Trump's grandchildren. They're kids and deserve to not be your clickbait."
It's not the first time, though, that Clinton has come forward in support of the Trump family's privacy, despite the fact that they are political rivals. Shortly after President Donald Trump's inauguration in January 2017, Clinton tweeted her support for the president's youngest son after then-10-year-old Barron Trump became the target of memes and tweets, according to Us Weekly. Though she encouraged her followers to stand up against any of the Trump administration's policies that hurt children, Clinton wrote "Barron Trump deserves the chance every child does — to be a kid." In August, she reiterated that message and wrote: "It's high time the media & everyone leave Barron Trump alone & let him have the private childhood he deserves."
Barron also isn't the only presidential offspring Clinton has stood behind. In November 2017, she criticized media outlets who had shared photos of former President Barack Obama's daughter, Malia, at a football game, according to The Washington Post, and tweeted, "Malia Obama's private life, as a young woman, a college student, a private citizen, should not be your clickbait. Be better." (Donald Trump's daughter and White House adviser Ivanka Trump also came to Malia's defense at the time, tweeting "Malia Obama should be allowed the same privacy as her school aged peers. She is a young adult and private citizen, and should be OFF limits.")
While it should be basic common decency to spare the president's children from public criticism if they aren't actively involved politically (it's not like Barron or the Obama daughters chose to spend their childhood and teen years in the White House, after all), Clinton unfortunately knows from experience that it doesn't always happen. She was only 12 years old when her father took office in 1993, and though her parents tried to shield her from the public glare, Clinton was "mocked by conservative radio host Rush Limbaugh and in a skit on Saturday Night Live," according to People (SNL executive producer Lorne Michaels and former cast member Mike Myers later issued an apology).
Though Donald Trump Jr.'s children may not be living in the White House, their grandfather being president — as well as their father being an outspoken supporter of his administration — means that they, too, are at risk of having their lives become fodder for public scrutiny. And while Vanessa Trump is seeking an uncontested divorce, which will hopefully prevent a contentious court battle, according to The New York Post (not to mention that the two almost certainly have a prenuptial agreement in place), there's nothing easy about a family breakup — especially when your oldest child is only 10 years old.
In other words, as much as it's absolutely fair game to dislike Trump Jr. for his political views (or anything else about his life as an adult who is choosing to share his opinions in public), the intimate details of his divorce and family life should be kept private. No child deserves to have to grow up watching their parents' divorce play out in tabloids for the entire world to speculate on, no matter what their last name happens to be.
Disclosure: Chelsea Clinton's husband Marc Mezvinsky joined Social Capital, an investor in Bustle Digital Group, in mid 2017 and joined the Board of Bustle Digital Group in early 2018.
Check out Romper's new video series, Bearing The Motherload, where disagreeing parents from different sides of an issue sit down with a mediator and talk about how to support (and not judge) each other's parenting perspectives. New episodes air Mondays on Facebook.