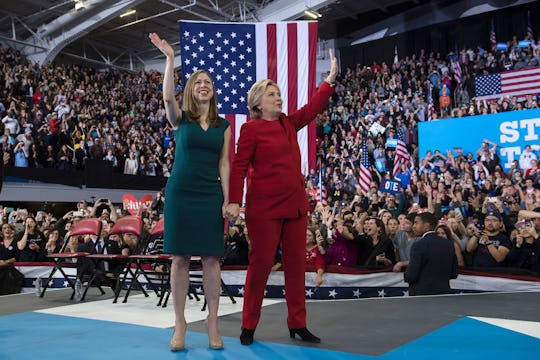 BRENDAN SMIALOWSKI/AFP/Getty Images
Chelsea Clinton's Tweet About Voting For Her Mother Is So Touching
Chelsea Clinton, daughter of Democratic presidential nominee Hillary Clinton and former President Bill Clinton, has played an integral role in her mother's campaign since the announcement of Hillary's candidacy in a YouTube video in April 2015. Fast-forward nearly 19 months later, and Chelsea Clinton's tweet about voting for her mother in today's historic election is so touching, it just might leave a lump in your throat.
The 36-year-old mother of two finds herself in an unusual position as a former and, potentially, future first daughter, should her mother emerge victorious from Election Day. According to CNN, Chelsea's "unique ability to make a personal pitch, softening and humanizing Hillary Clinton's image to that of a mother and grandmother" has turned her into a key asset during her mother's second bid for the presidency. Just as Ivanka Trump introduced her father prior to his speech accepting the GOP nomination at July's Republican National Convention, Chelsea took to the stage at this summer's Democratic National Convention to announce her mother's imminent entrance, sharing stories of her childhood and of talking to her parents at the dinner table about the book A Wrinkle In Time.
I never once doubted that my parents cared about my thoughts and my ideas, and I always, always knew how deeply they loved me. That feeling of being valued and loved — that's what my mom works for for every child. It is the calling of her life.
The existing friendship between Chelsea and Ivanka drew attention as early as the primary campaign as well as during the brutal general election season. After being introduced through their husbands a few years ago, the pair was occasionally photographed together on the red carpet (at events like the 2014 Glamour Women of the Year Awards) and seen having dinner a few times a year. However, POLITICO reported back in March that the casual friends had agreed to "temporarily put their friendship on hold" to avoid potential awkwardness during the campaign. In September, Chelsea told The View she and Ivanka would remain friends no matter who becomes the 44th president of the United States:
We were friends long before this election. We will be friends long after this election. Our friendship didn't start in politics, it certainly is not going to end because of politics. I have tremendous respect for Ivanka.
Regardless of whom you support, there's little dispute the ability to cast a vote for the first female presidential nominee in history is nothing short of a momentous occasion. Women were legally guaranteed the right to vote just 96 years ago, and many have been waiting to cast their vote for a potential "Madam President" for the same length of time. Though Chelsea isn't one of them, she's probably just as proud to see her mother's name on the ballot in 2016.