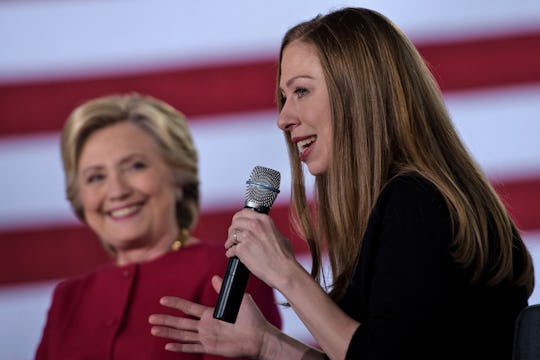 BRENDAN SMIALOWSKI/AFP/Getty Images
Chelsea Clinton's Tweet To Hillary Before The Last Debate Is The Best Thing Ever
As part of the final stretch to the general election, the presidential candidates faced off in Las Vegas during Wednesday's final presidential debate. Both Hillary Clinton and Donald Trump were joined by their families at the University of Nevada. But the support wasn't only in the room. Chelsea Clinton's tweet to Hillary before the last debate may have been one of the sweetest moments of the night. Chelsea has been an ardent supporter of her mother, campaigning both as her surrogate and alongside her mother during this election season. Chelsea's speech at the Democratic National Convention was probably one of the most genuinely moving living tributes a daughter could ever give a mom on such a national stage, which is what makes her tweet Wednesday night before the debate so special.
"So proud of you mom," Chelsea tweeted, "I can't wait to watch you take the stage tonight." She ended her tweet with the Clinton campaign hashtag, #ImWithHer. After such a slog of a campaign season so far, especially following two very grueling presidential debates, Chelsea's tweet in support of her mom was a very welcome breath of fresh air and positivity.
Chelsea's tweet was met with a flood of support on Twitter, with plenty of retweets, hearts, and replies. Her mother has been met with plenty of vitriol from the Trump campaign, particularly in the last few weeks as Trump has vowed to go "personal," bringing in Bill Clinton's past infidelities into the campaign discourse. To read a tweet as genuine and supportive of Chelsea's shows that the Clinton family "goes high" when everyone else would "go low," as it were.
Just prior to the debate on Wednesday, Chelsea was campaigning in Arizona for her mother, a state that could potentially become a key battleground on election day. As of Wednesday, Politico noted that several polls show Clinton ahead of Trump in the Grand Canyon State. There was some speculation that Chelsea might not be able to make the debate, given the travel from Arizona State University in Tempe, to the University of Nevada in Las Vegas. But the 36-year-old mom of two was there to support her mom, with her father Bill at her side.
After the debate, Chelsea continued to share her support for her mom by retweeting a post from the Hillary Clinton Twitter account. "RT if you're proud of Hillary tonight," the message read. As she has throughout her mother's campaign, Chelsea Clinton has continued to rise above the mudslinging and shine as one of her mother's best supporters.