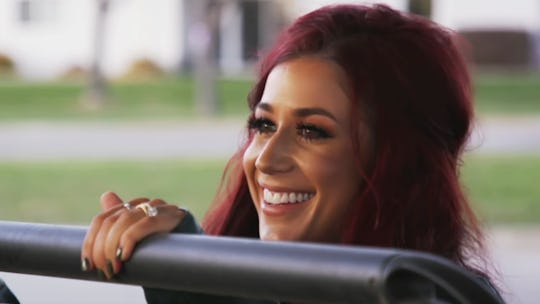 MTV/ YouTube
Chelsea Houska's Battle For Just "One Good Photo" With Her 3 Kids Is Too Real
Chelsea Houska is used to putting her life out there for all to see... but her kids obviously didn't get the memo about smiling for the paparazzi, uh, I mean, the parents trying to take pretty pictures. As she shared on Instagram this week, Houska wanted just "one good photo" with her three kids and the struggle to get everyone on board is beyond relatable. The Teen Mom 2 star was clearly just trying to grab a couple family pics, what with fall weather starting and all.
Houska and husband Cole DeBoer welcomed daughter Layne in August, according to E! News, on the now mom-of-three's 27th birthday. Houska is also mom to the couple's 1-year-old son, Watson, and her 8-year-old daughter Aubree, whom she shares with her ex Adam Lind, according to E! News. Since Layne's arrival, the DeBoer clan has looked absolutely overjoyed about their family of five in all their social media posts so far.
But having a larger brood is also where the trouble and struggle comes in. When you've got an infant, a toddler, an elementary schooler, and two adults to account for, making memories can be, well, tougher than you'd imagine. It's just not that easy to find that lightening-fast-and-it's-gone second moment in which everyone is smiling pretty and actually looking in the direction of the camera. (All at the same time, that is.)
As Houska wrote on Instagram: "When you want just ONE good photo with your kids....🤦🏻‍♀️🤣. She also added her hilarious commentary. "Wait come back here!" she told Watson, as she said "Smile Aubree!" to her daughter.
No longer after Houska posted the family photo, her fans were all to ready to relate and chime in with their own experiences. "Good to know we all go through it," wrote one on Instagram, while another user said, "Yup that's my kids.lol."
"Ain't that the truth! I have 3 boys! 5,3,1! It is IMPOSSIBLE to get a decent photo of them!" one mom chimed in. "God, how I know this feeling," summed up yet another fan.
Parents on Twitter had the same "I get it!" reaction.
If you persist, though, Houska's experience can hopefully offer moms some hope. Just look at what happened when the family stood its photographic ground and waited for the right millisecond.
"My loves 🧡💛❤️," Houska captioned the family of five's photo.
All kidding aside, Houska seems to be in the best place of her life, having settled into life with her adorable kids after showcasing her challenging beginning as a young parent with Aubree on MTV, as People reported. Us Weekly noted that Houska, a South Dakota native, met DoBoer at a gas station while filling her tank and the two were married in 2016.
And as for DeBoer, fans can't help but love his devotion to his family, and his role as stepdad to Aubree.
Seriously, this family is ridiculously adorable. And personally, it's nice to know another mom understands my photographic pain, as the mom of three. One year, I had so much trouble getting a shot for a holiday card that I actually used a bad picture... half the fam looking awful, the other half fussing. But, that shot was probably the most popular we've ever sent around. So keep the faith, Chelsea!