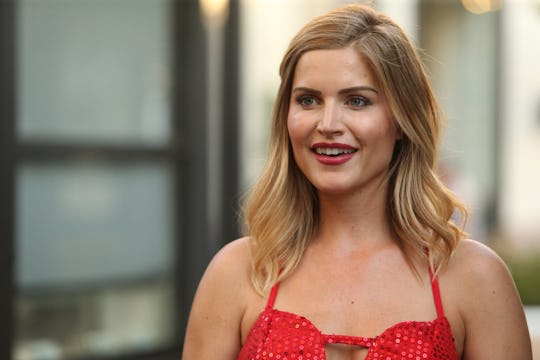 Paul Hebert/ABC
Chelsea Opened Up To Arie About Her Ex On 'The Bachelor'
I feel like Bachelor Nation was baited and switched with this season's "villain." The premiere made everyone think it's Chelsea, but as the season continues she's starting to grow on me. Chelsea opened up about her son's father on The Bachelor and it may change how viewers see her. She got a one-on-one date with Arie and, unlike in previous conversations, she opened up about not only her son, but the relationship she had with his father. The date showed a more "human" side to Chelsea, which is exciting considering how she was portrayed in the season's premiere. I haven't made a complete 180 on my feelings toward her, but I'm definitely on my way.
The viewers' first impression of Chelsea was certainly not as good as Arie's. While Chelsea won the first impression rose during the premiere, the other contestants weren't happy about the way she did it. Now, the first night of The Bachelor, there are as many women there as there's going to be — and each and every one want time with Arie. Chelsea was the first person to take Arie aside, which some people side-eyed but hey, someone has to do it. But then, she went back to talk to him a second time when others hadn't talked to him at all. That caused even more drama.
This disregard for the other contestants' feelings had viewers labeling her as this season's "villain," like Corinne Olympios and Oliva Caridi before her. The villain is typically a contestant the others don't like and seems to be a.) not here to make friends, b.) there for the wrong reasons, or some combination of the two. As The Bachelor is about as far from a documentary as reality TV can be, I always take this label with a grain of salt. Everything is super edited and could be influenced by producers. Regardless, viewers were quick to make Chelsea this season's villain.
Since then, though, she's been pretty quiet. Another contestant has assumed that role: Krystal, the fitness coach with a breathy voice. Krystal's causing drama among everyone on every episode at this point, such as a beef with Bibiana and not going to the afterparty during Monday night's group date. While Krystal was taking up everyone's precious time and energy, Chelsea went on a solo date with Arie. Something that interested him in the first place about her was that she was mysterious. She didn't tell him that she was a mother at first, but he appreciated once she did.
On the one-on-one date, Arie and Chelsea enjoyed a yacht ride and and jet skiing. Afterwards, they went to dinner where she opened up even more about her life. In an interview with Glamour, Chelsea said she shares custody of her son, Sammy, with his father. During her date, she told Arie that they didn't have an amicable break-up and it left her hurt. Arie once again appreciated that she was vulnerable with him, and he gave her the solo date rose.
"I want another man in my life that treats me right and can show Sammy what it is to be a father... to be a male figure," Chelsea told Glamour. From what Chelsea says, it seems that she's ready for love and ready to bring another man into Sammy's life. As of now it seems that Arie is really into her, and the audience may be warming up to her as well. One thing's for certain: Chelsea is no longer the "villain" of the season, especially after Monday's episode. Whether she wins Arie's heart, though, has yet to be seen.
Check out Romper's new video series, Romper's Doula Diaries:
Watch full episodes of Romper's Doula Diaries on Facebook Watch.