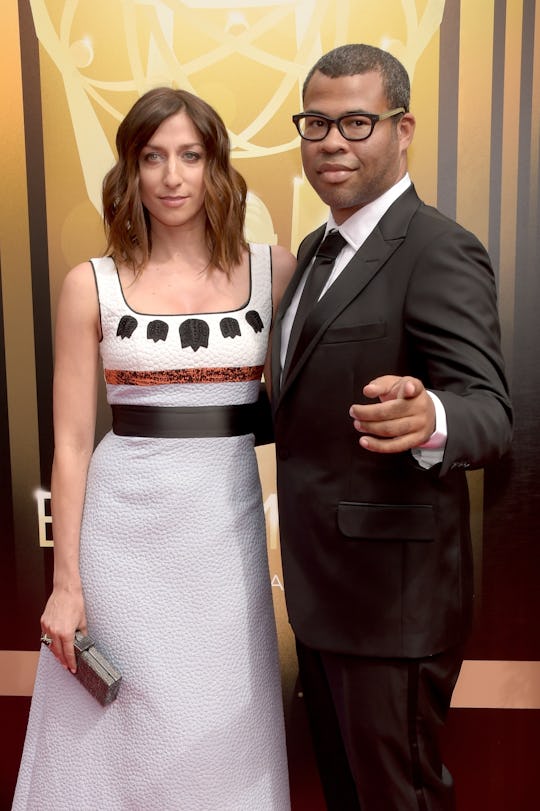 Chelsea Peretti & Jordan Peele Are Engaged, So Start Trying To Get Invited To The Funniest Wedding Of The Century
Here's a first: A wedding that you actually want to go to. Chelsea Peretti and Jordan Peele are engaged after two years together. The couple, who make up two of the funniest people in Hollywood with their work on Brooklyn Nine-Nine and Key & Peele, respectively, revealed the news to their fans on (where else?) Twitter on Saturday. A fitting move, considering the duo met on the Internet, when Peele digitally complimented Peretti's Web series, according to the actress.
For his part, to announce the engagement, Peele tweeted just a single emoji — a diamond ring — and tagged Peretti, a move that would make Gina Linetti quite proud. Peretti went into a bit more detail about the engagement, tweeting, "My fiancé (lololol) @JordanPeele proposed to me last night during the family talent show lolol."
It's hardly surprising that that's how Peele would choose to propose — after all, as Peele told Vulture earlier this year, the couple often makes up musicals when they're together. Said Peele:
We stay at home, cook, do the dishes, and improvise musicals ... One of our best ones was Monica Lewinsky: The Musical. It was for older Midwestern people traveling to New York to see something.
Which is all to say — how can I get an invite to this inevitably hilarious wedding?
Image: Jason Kempin/Getty