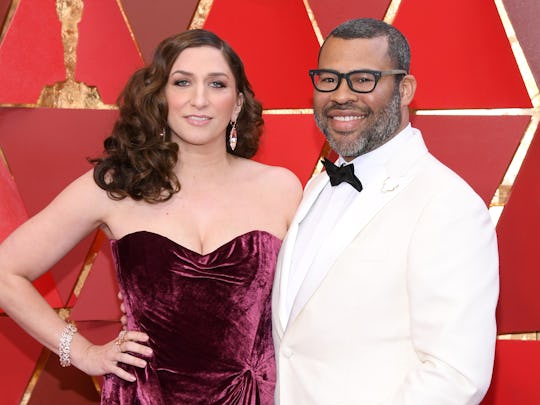 Kevork Djansezian/Getty Images Entertainment/Getty Images
Chelsea Peretti Posted About Pumping At The Oscars & It's Beyond Relatable
There's a lot of preparation that goes into planning the many award shows each season, but there's also plenty of prep that goes into some of the guests who attend, and no, I'm not just talking about which designer they choose to wear. For Chelsea Peretti, the most important thing would be figuring out the logistics of how and where to pump while also attending the 2018 Oscars. And Chelsea Peretti's Instagram about pumping at the Oscars is so relatable for moms everywhere who have been in public, social, or work settings and have struggled to find the right place to pump.
Peretti, who welcomed her first child in July 2017 with husband Jordan Peele, has never really been shy about motherhood via social media and really, we all love her more for it. Even before her Instagram post about pumping at the Oscars, Peretti posted a photo of someone's trailer she'd been able to pump in shortly before Sunday night and noted, "It will be my great honor to pump tonight at the Oscars." She also joked about getting the "EGOT" of pumping. Or, in other words, the honor of having pumped while at the Emmys, Grammys, Oscars, and Tony Awards.
And back when Peretti posted a pregnancy announcement on Instagram, she jokingly captioned it with, "Beyoncé schmonce," in reference to Beyoncé's own pregnancy announcement from around the same time. Peretti is basically the mom friend we all wish we had.
If it isn't hard enough for some moms to find the most comfortable place to breastfeed their baby while out in public or at an event, then it might be even more so for moms who just need to pump. Having engorged breasts is no joke and just because it's the fanciest show business night of the year, it doesn't mean that Peretti got to take the night off from pumping for later on when she and Peele would be back home with their baby.
For us common folk, there's no getting around pumping either. I'd be lying if I said that I didn't know a mom or two who needed to show up late or leave early to leave early from a bachelorette party because of the need to pump. But it's all in the name of motherhood and Peretti totally gets that. Stars — they're just like us, right?
I'm not sure if Peretti even meant to connect with moms when she posted on Instagram about pumping at the Oscars or if she was simply trying to show the swanky private room she was provided at the show to get all of her pumping done without worrying about anyone barging in on her, but the comments from fans prove that it was relatable for all moms. One fan commented, "Love these pumping updates. Lol behind the scenes of being a mom," while another said, "I have enjoyed every one these. Of course, Oscars wins best pumping spot!"
A mother's got to do what a mother's got to do, and just because Peretti happens to also be a famous mom, it doesn't mean that she still doesn't require some private and comfortable pumping quarters, especially when it comes to the many award shows of award show season. She also brought her pumping bag to the 2018 Screen Actors Guild Awards, so doing so at the 2018 Oscars was no big change for her. But it was still so relatable for most moms who deal with the typical pumping or breastfeeding woes on a daily basis.
With Peele's 2017 hit Get Out nominated in four different categories at the 2018 Oscars, there was no real way for Peretti to not be there. But as any working mom can attest to, making it work for the sake of your kid is just a given.
Check out Romper's new video series, Romper's Doula Diaries:
Watch full episodes of Romper's Doula Diaries on Facebook Watch.