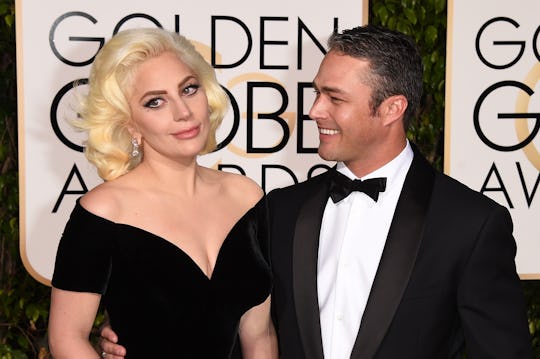 Jason Merritt/Getty Images
Cher Responds To Lady Gaga's Teary Golden Globes Speech & It's Adorable
Lady Gaga crossed from singer to actress territory when she took on the role of The Countess in American Horror Story: Hotel. On Sunday, she won the Golden Globe for Best Actress in a Limited Series or TV Movie, and needless to say, she was stoked in her own passionate, Gaga-esque way. Gaga gave a shout-out to Cher in her acceptance speech, saying, "I feel like Cher in that John Patrick Shanley film Moonstruck right now — this is one of the greatest moments of my life." And then Cher responded to Gaga's Globes shoutout, and it was absolutely adorable.
Cher was quick to jump on Twitter and tweeted "SO PROUD OF GAGA," and giving it the apt hashtag #BIRDSOFAFEATHER. It was an awesome shoutout circle as the two powerful ladies supported one another, whether on stage or through Twitter.
American Horror Story: Hotel was Lady Gaga's first foray into the acting world, and she thanked the cast involved upon receiving her award, saying: "You're my family forever ... Because of you, I was able to shine, I guess. So thank you for sharing your talent with me. I wanted to be an actress before I wanted to be a singer, but music worked out first," according to the Hollywood Reporter:
The things I put my body through and my mind through when I'm working, it makes me like a child, I can't even do things on my own. You allow that and you take care of me and you help me to explore my creativity in ways I never thought I could.
Cher was not the only one who loved seeing Gaga on stage:
Go get 'em, Gaga! Who says you can't sing and act and walk the way Gaga does?
Image: Jason Merritt/Getty Images Entertainment