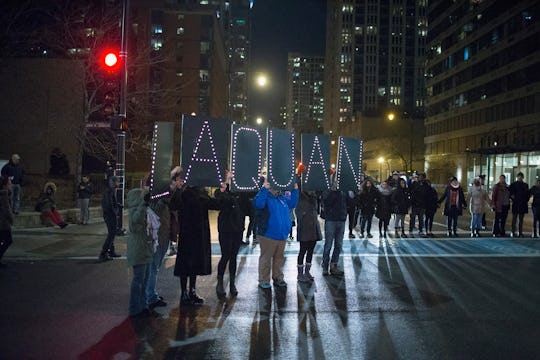 Chicago Protesters Plan Black Friday March Along 'Magnificent Mile' Following Laquan McDonald Video Release
Just days after Chicago police released the dashcam video showing the final moments of Laquan McDonald's life, demonstrators have announced plans to rally in the heart of the city's retail shopping district. Protesters intend to march on Black Friday along Chicago's Magnificent Mile to bring attention to the Oct. 20, 2014 slaying of 17-year-old McDonald.
Though the march is slated to be peaceful (as all demonstrations have been up until this point), there have been isolated clashes — and approximately 10 arrests. During each rally, police have asked the activists to march in the middle of the street, and the Chicago Police Department said it would handle Friday's march much the same way.
Though McDonald was murdered over a year ago, the video of his death was released on Tuesday — only after months of public pressure and a court-order, which gave police until Wednesday to make the footage public. On the dashcam recording, viewers can see the 17-year-old running away from police. After being cornered, McDonald stops but Officer Jason Van Dyke opens fire, shooting the young man 16 times. (And many of those shots were taken after McDonald fell to the ground.) Van Dyke was charged with first-degree murder hours before the released video made national news, and he's currently being held without bond.
One of the protest leaders, Rev. Jesse Jackson, said the Black Friday march up would focus attention on Chicago and the issue of racism in the police department. While it has been rumored that protesters plan to engage in disruptive acts, such as blocking store entrances to prevent shoppers from getting inside, Rev. Jackson ensured the public no such acts were planned, through he did acknowledge some disruptions could happen: "Some people may do that, I don't know."
Jackson went on to say:
It's not enough to focus on what brought us here today — the execution of this young man...that takes the scab off a deeper sore, a deeper cancer.
Jackson and other activists are also planning to hold an emergency summit on police reform in Chicago in coming days.
Image: Scott Olson/Getty