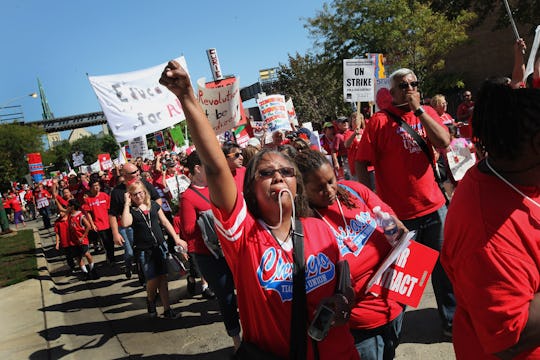 Scott Olson/Getty Images News/Getty Images
Chicago Public School Teachers Strike, But What Will Happen To The Students?
Nearly 20,000 teachers in Chicago will show up to picket outside the city's schools starting at 6 a.m. CT on Tuesday morning. The day before the Chicago Public Schools strike is set to begin, negotiations between the Chicago Board of Education and the teachers union were underway to try and settle a contract dispute. But if an agreement with Mayor Rahm Emanuel doesn't happen by midnight, Chicago Teachers Union says it will call for the strike, which would mark the third organized walkout since Emanuel took office in 2011.
It's unlikely that both sides will be able to come to an agreement by the deadline, so what will happen to the students for the duration of the protest? According to NBC Chicago, all CPS schools will still be open even if teachers are picketing. Each school's plan for the day will differ as there will be limited staff available during the strike, but all schools will provide a free breakfast and lunch if students need them.
And while no official lesson plans will be taught, a CPS teacher told Romper that "educational activities" will be provided by non-contractual substitute staff for students that come to school.
Free transportation will also be provided for students during the hours of the strike from 5:30 a.m.- 8:30 p.m., city officials told NBC Chicago.
Parents can also send their children to the schools for childcare if they don't have an alternative. There are several alternative options where children can go for care during the strike, including a number of Chicago Park District and Chicago Public Library locations, which can be found on the Chicago Public Schools' website.
But, students are not required to go to school and classrooms in the nation's third largest school district may very well be empty on Tuesday morning.
A CPS teacher, who will be participating in her second strike and spoke on condition of anonymity, told Romper that for all the days that the strike takes place, school days will have to be made up during vacation breaks, but "most parents are extremely supportive" of the teachers, despite the disruption to the school year.
Chicago teachers, who educate nearly 400,000 students, are striking over budget cuts, layoffs, and changes in pay. According to The Chicago Tribune, they have been working without a contract since June 2015, which was the expiration date to a deal that was reached after seven-day strike in 2012.
"For years, the city of Chicago has diverted funds from education to pay for other pet projects, which has broken the district financially and robbed schools of much-needed programs and resources," the teachers union said in a press release.
While it's likely that parents in Chicago will have to prepare for yet another teacher strike, the end goal the city's educators want to reach is to help and enhance their students' education while ensuring they have a fair and dependable contract.