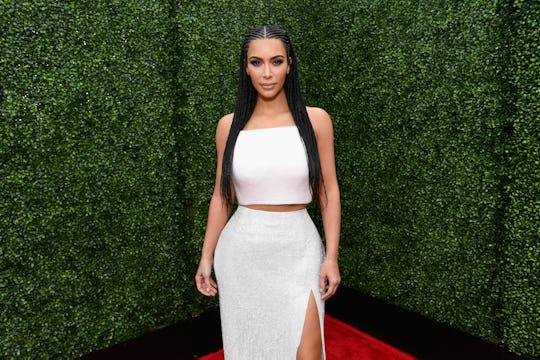 Emma McIntyre/Getty Images Entertainment/Getty Images
Chicago West Just Modeled In Her *Stunning* First Ad Alongside Her Mom
Kim Kardashian is a super devoted mother to her three children — daughter 5-year-old daughter North, 2-year-old son Saint, and 10-month-old daughter Chicago — with her husband, Kanye West. With each and every post on social media or interview about her kids, it's clear that Kardashian is super invested in their interests and futures. Although Chicago only is 10 months old, she may have a future career in modeling. This is because Chicago West is starring in her first ad alongside her mom, which could hint to a possible career in her future.
Since Chicago was born through a surrogate in early January, according to Glamour, people have not stopped commenting about how cute the little girl is. Kardashian has said that her youngest daughter looks "a bit like North and a tiny bit like Saint," according to Elite Daily, making her the perfect combination of both of her siblings. But in spite of this resemblance, Kardashian tweeted that she "definitely looks like her own person."
In all of the photos that Kardashian has taken of Chicago, you can tell that the little girl loves being in front of the camera. So, it makes sense that Kardashian would include her in the ad campaign for her newest release from her beauty company, KKW Beauty. In the ad, shot by legendary photographer, David Lachapelle, according to Harper's Bazaar, Kardashian can be seen cradling her daughter against her chest with both of their eyes closed (while Kardashian modeled her new eyeshadow).
Meanwhile Chicago looks so serene and like such a natural model.
There are a lot of things to be said about this photo where Chicago looks so cherubic and angelic — and Kardashian's fans have taken to the comments of the photo to fawn over the gorgeous shot. Even her friends can't get over the beauty in the photo.
"Might be the best pic ever," Kardashian's best friend, Jonathan Cheban, commented on the photo. "She's unreal."
It's fitting that Chicago is featured in the ad for this beauty launch — because the launch has close ties to Kardashian's husband (and Chicago's dad). The new launch of pressed pigments and loose pigments is called "Flashing Lights," according to Cosmopolitan, and was released to celebrate Kardashian's birthday. But, "Flashing Lights" also happens to be the name of one of West's songs. Because she subtly included her husband in this launch, it makes sense why she would incorporate their youngest daughter, too. It's super sweet and is just another testament to how devoted Kardashian is to her family.
Although Kardashian hasn't revealed too much about Chicago's personality (or her future aspirations), Kardashian did say during a recent episode of Keeping Up With The Kardashians that she felt "instantly connected" with Chicago when she was born, according to E! News. So sweet.
This isn't the first time that one of Kardashian's kids has taken up modeling. Earlier this month, Kardashian's oldest daughter, North, modeled in her first fashion show ever for the L.O.L Surprise toy brand, according to HuffPost. North looked super confident in the photos of her walking down the runway and it seemed like she had so much fun.
No matter if her daughters take after their supermodel aunt Kendall Jenner and take to the runway in their teens, or just do modeling for fun, it's clear that Kardashian will support them in all of their endeavors. Kardashian has spoke highly about North's obsession with makeup and all things beauty, according to Entertainment Tonight — and even mentioned on Instagram that she had to "bribe her daughter" to get out the door with makeup.
With their love of makeup, modeling, and being in front of the camera, it's clear to see that both of Kardashian's girls are already following her footsteps.