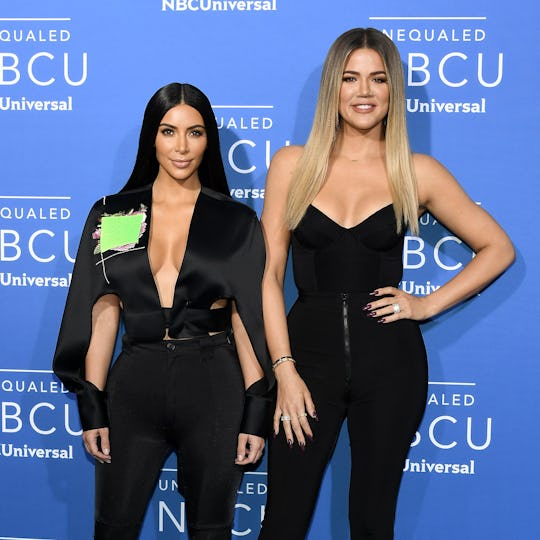 Dia Dipasupil/Getty Images Entertainment/Getty Images
Chicago West & True Thompson Had The Cutest Tummy Time Play Date
The Kardashian siblings are close. If their E! reality show, Keeping Up With The Kardashians, is any indication, the sisters spend a lot of time with each other. So, it shouldn't come as a surprise that their children spend a lot of time together, too. Take Kim Kardashian and Khloé Kardashian — who welcomed their newborn daughters, Chicago West and True Thompson into the world just months apart from one another. Because Kim and Khloé spend so much time together, Chicago and True do, too. On Friday, according to Kim's most recent Instagram, Chicago and True had a tummy time play date that would make anyone squeal with joy. How can they be that cute?
When Kim Kardashian welcomed her third child, daughter Chicago West, into the world through a surrogate in early January, according to TMZ, she was pretty aware that her daughter would already have two lifelong best friends. This was because, at the time, Kim's younger sisters, Kylie Jenner and Khloé Kardashian were both pregnant with their own daughters. So, when Khloé gave birth to True in April, according to E! News, fans were pretty excited to see the three little girls grow up together, just like their moms did.
And the sisters have been delivering on that idea. Case in point — Kim's Instagram on Friday. In the photo, Chicago can be seen laying on her stomach, propped up on her little hands looking at something on the ground. While her cousin, True, who is three months younger, happily stares at the same thing while on her stomach. It might be the cutest "tummy time" that you might ever see. Kim seemed to think so. "Best friends for life!!!," Kim captioned the Instagram photo.
"Our munchkins!!!!!!!!!," Khloé wrote in the comments section of the photo. "I can't handle the cuteness!! Chi is teaching True the ropes of tummy time."
It makes sense that True and Chicago would be spending a lot of time together, especially since their moms have been doing just that. On Wednesday, Khloé told People that she enjoys being around Kim, because she gives the best parenting advice. Khloé told People:
You get so much advice when you're becoming a new mom. I have to say that Kim probably has given the best advice because she's not judgmental about any of it. She offers up different ideas and either you take it or leave it and that's OK.
This photo is evidence of how much time the little girls have spent (and will be spending) together — which is a lot, according to People. Not only do they hang out at family events but the youngest Kardashian-Jenner girls also have had a "cousins photo shoot," according to Entertainment Tonight. If fans thought that Kim's latest Instagram photo was cute, could you imagine how adorable a photoshoot with them (and Stormi) would be? Like, insanely adorable.
But this isn't the only time that Chicago and True have recently hung out. In a recent post on her app, Khloé said that all of the Kardashian-Jenner cousins hang out once a week to attend a thing called "baby class." Khloé wrote, according to People:
We have baby class once a week together with all of the kids and it's been such a dream! Seeing their strong little personalities bond with each other is the best thing to witness. I can't wait to watch it continue!
Oldest sister (and mom of three older kids) Kourtney Kardashian confirmed to People that watching all of the cousins grow up with each other has been nothing short of exciting. "I think it's really special to have three little baby girls all at the same time," Kourtney told People. "We call them the triplets."
The triplets is the perfect name for the cousins. I mean, it's hard to ignore how similar and adorable the two girls are in this new photo. And the best thing is, there are definitely going to be more photos like this to come in the future. If fans saw the Kardashian sisters grow up on camera right before their eyes, then they'll be able to see that with their children, too.