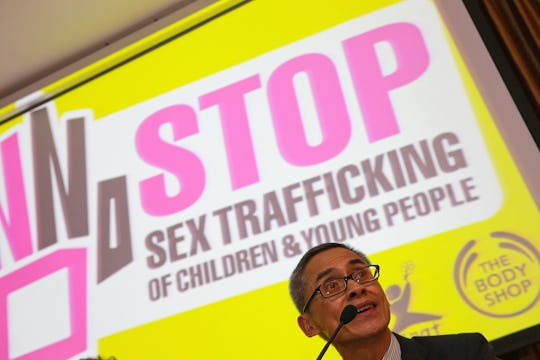 Athit Perawongmetha/Getty Images Entertainment/Getty Images
Child Prostitution Laws Show Change Is Needed
January is Human Trafficking Awareness Month. It would seem fitting then, that the California legislature just passed a law to decriminalize child prostitution in the state. It's important to distinguish that California didn't just "legalize" child prostitution — rather, SB 1322 is an important first step in the fight to stop human sex trafficking in the United States. Instead of arresting children in prostitution cases, they are treated as victims of sex crimes instead. What California's new law and other child prostitution laws by state reveal is that the fight to end human sex trafficking in the United States is a complicated and ongoing battle.
According to Shared Hope International — a non-profit organization dedicated to fighting human sex trafficking — as many as 100,000 children are forced into sex trafficking in the United States each year. First, a little clarity: Not all sex for money is sex trafficking, as there are many adults who become sex workers by choice. (Sex work does not include sex trafficking, which says in its definition that it is forced.) But it's important to understand too that there's really no such thing as "child prostitution" — these children are minors incapable of giving sexual consent. And that's what makes California's decriminalization of "child prostitution" such a progressive step forward, by treating these children people who have been taken advantage of.
But what about the rest of the United States?