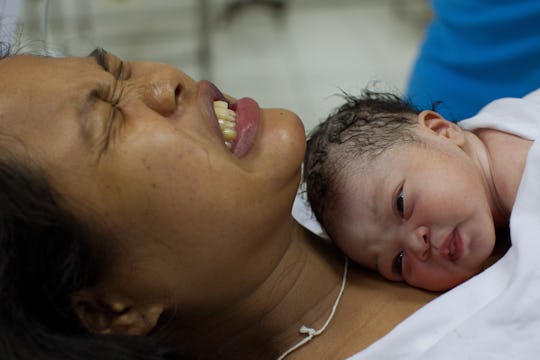 Paula Bronstein/Getty Images News/Getty Images
Childbirth Pain After Delivery Linked To Postpartum Depression, A New Study Finds
In a presentation at the World Congress of Anesthesiologists in Hong Kong this week, a team of researchers from Singapore revealed that lasting childbirth pain is linked to postpartum depression. More specifically, women who experienced ongoing pain after giving birth were not only more likely to experience postpartum depression, but that the likelihood increased the longer they experienced such pain following delivery. While their results have not yet been published in a peer-reviewed journal, the study highlights the importance of screening mothers for postpartum depression in the weeks immediately following birth.
According to Postpartum Progress — a national non-profit raising awareness for and supporting moms suffering from postpartum depression — one out of seven pregnant and new mothers will experience a perinatal mood or anxiety disorder. Dr. Katherine Wisner, a perinatal psychiatrist at Northwestern University Feinberg School of Medicine in Chicago, noted that the study was different from many others regarding postpartum depression as the researchers found that Edinburgh Postnatal Depression Scale (EPDS) scores were very closely linked to just how long a woman experienced childbirth pain both during and after delivery. (Wisner was not involved with the study.) The EDPS was developed by Scottish health centers during the 1980s, and is a 10-question screening tool used to diagnose women for symptoms of postpartum depression.
The study out of Singapore included data from 200 healthy first-time mothers who received an epidural during childbirth. Six to eight weeks following birth, the researchers checked in with the new moms by phone survey to assess their anxiety and post-birth pain levels, as well as their potential risk for postpartum depression. Four weeks after giving birth, 5.8 percent of women in the study reported symptoms of both postpartum depression as well as lasting childbirth pain.
While there are certainly limitations to the study itself, such as sampling only healthy women who received an epidural, its implications for health care providers are especially important regarding pain management after childbirth and not just during labor. For example, women who have had c-sections are more likely to experience severe pain as they recover from what is essentially major abdominal surgery. This pain, combined with the inherent stress of taking care of a newborn, puts women at greater risk for developing postpartum depression.
While there is still more research to be done in the fields of labor pain management and postpartum depression, this latest study adds to the growing medical consensus that postpartum depression requires attention, validation, and treatment.