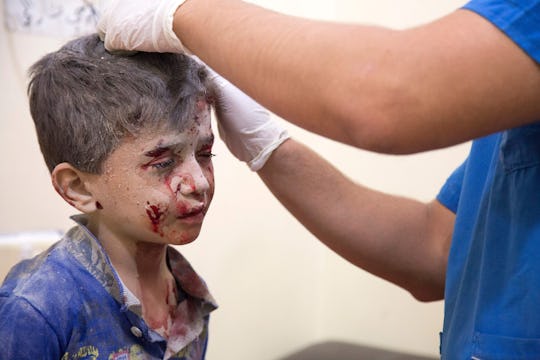 KARAM AL-MASRI/AFP/Getty Images
Children In Aleppo Are Having Surgery Without Anesthesia, & They Need More Than Prayers
Bombings continued to rage across Aleppo, Syria, this week as Syrian government forces bombarded rebels holding key areas of the city. As casualties mount, including many children, supplies in local hospitals are running low. Children in Aleppo are getting surgery without anesthesia, which is why they need more than prayers — they need peace and protest here in the U.S. and help.
According to a tally from local hospitals by The Guardian, nearly 400 people have been wounded, including more than 60 children in the recent airstrikes. Mohammad Abu Rajab, a doctor in one of the largest Aleppo medical facilities, told The Guardian:
What has happened over the last three days is indescribable. Words fail, pictures fail, everything fails. Imagine the dead lying in the corridors, corpses and wounded and blood flowing everywhere. We are standing before inhumanity, real massacres, extraordinary weapons whose blasts we never heard before, never heard before ever, they make the ground shake beneath our feet.
Caroline Anning from Save the Children told BuzzFeed that doctors and nurses in the area are "frantic" and running short on basic necessities like ventilators and anesthesia.
"They are having to do operations on children without anesthetics," Anning told BuzzFeed. "One doctor told us five children died in his care because he didn't have enough ventilators to go between them."
According to U.S. officials, a negotiated cease fire collapsed on Sept. 9 as a result of Syrian and Russian forces bombing convoys bringing humanitarian aid into the city of Aleppo, according to BuzzFeed.
"Instead of helping get lifesaving aid to civilians, Russia and Assad are bombing the humanitarian convoys, hospitals, and first responders who are trying desperately to keep people alive," Samantha Power, the U.S. Ambassador to the United Nations told the Security Council, according to BuzzFeed.
Worse yet than the dwindling life-saving medical supplies is the loss of more than 750 doctors in Aleppo since the war began just 5 years ago, according to NBC News. Now, NBC reported, only 35 doctors are left in Aleppo to care for hundreds of thousands of people in a war zone.
"This is not things as usual," Dr. Zaher Sahloul told NBC News. "This is a looming humanitarian disaster of unprecedented proportions."
According to NBC News accounts of the availability of medical supplies in Aleppo:
The one CT scan broke last July, setting diagnostic abilities back to the 1960s. Surgeons are forced to operate in dark basements, sometimes guided only by the glow from cell-phone screens, flashlights and headlamps. With limited suture kits, doctors used household needle and thread to sew patients' bellies back together. They drill into broken bones using construction-grade equipment. Their scalpels are dull. No one receives anesthesia — they feel every tug and cut and crack.
If you would like to help the children of Syria, you can donate to organizations including UNICEF, SOS Children, International Rescue Committee, Doctors Without Borders, and the Migrant Offshore Aid Station providing aid to Syrian refugees at sea.
If you can't donate, there are petitions like this one to ask Congress and President Obama to stop the killing in Syria and this one to allow Syrian refugees to resettle in the U.S. Finally, share articles and stories freely about the growing atrocities in Syria to help build awareness about the inhumane conditions for those living in war-torn Aleppo.