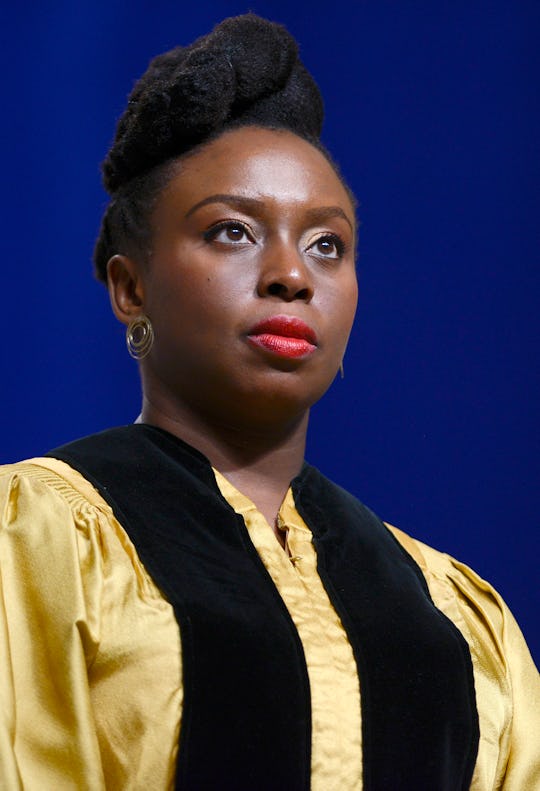 Leigh Vogel/Getty Images Entertainment/Getty Images
Chimamanda Adichie Had A Baby, But Her Reason For Not Revealing The Pregnancy Is Awesome
There are a multitude of reasons to admire Nigerian author Chimamanda Ngozi Adichie. She writes fiercely and beautifully about race, feminism, love, and pretty much everything else under the sun. She also recently gave birth, but kept it a secret. And just in case you had any lingering doubts about whether or not you should jump enthusiastically onto her bandwagon—yes, Adichie's reason for not revealing her pregnancy is awesome. There's space on the bandwagon beside me, so please, hop aboard.
In an interview with the Financial Times, Adichie spoke about her baby with the media for the first time. When discussing why she'd ordered a mocktail for lunch, she casually mentioned that she was breastfeeding, causing the reporter to do a double-take. Adichie soon elaborated on why she'd been so private throughout her impending motherhood, saying:
I have some friends who probably don't know I was pregnant or that I had a baby. I just feel like we live in an age when women are supposed to perform pregnancy. We don't expect fathers to perform fatherhood.
It is true that many women, especially in the public sphere, don't seem to have a right to privacy once it becomes common knowledge that they are pregnant. Fans clamor for pictures of baby bumps, information about a baby's gender, and news of a baby's name. (In the Financial Times interview, Adichie refused to reveal her own daughter's name.)
Then, once the baby is born, people oftentimes jump all over the new mother for not losing her baby weight quickly enough, neglecting her baby (cough cough everyone judging Chrissy Teigen for going out to dinner), and on and on. Conversely, new fathers don't get nearly as much scrutiny in a culture where dads are still said to be "babysitting" their children. (I like to call it "parenting.")
Of course, if expectant mothers want to be open about their pregnancies, they should go right ahead. But Adichie's choice serves as a beautiful reminder that those who'd prefer privacy should be allowed to focus on their impending parenthood, rather than having to worry about how they're going to present it to everyone.
It's not surprising that Adichie has such a thought-provoking response to motherhood. After all, this is the woman who wrote We Should All Be Feminists, Americanah, and Half of a Yellow Sun, not to mention a fascinating recent short story for the New York Times that imagined Melania Trump as a Mrs. Dalloway-type figure. (If you haven't read The Arrangements yet, go, go go!)
So kudos to Adichie, and congratulations!