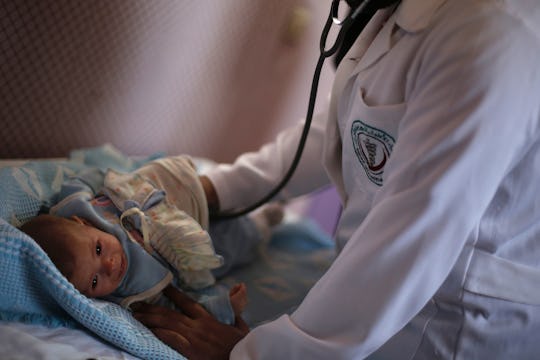 ABDULMONAM EASSA/AFP/Getty Images
CHIP Funding For 9 Million Kids' Health Care Could Be Saved, But It's Complicated
Living in this world hasn't been easy to do these past few days. The news has been filled with all sorts of atrocities, natural disasters, and just plain bad news. It's been hard to go online lately, when the chances of seeing something horrific are so great. But, there's still good news out there. Even though Congress let the Children's Health Insurance Program expire recently, CHIP funding could get an extension, and it would actually save health insurance for 9 million kids. And that, is definitely something to be happy about.
Unfortunately, federal funding for CHIP expired over the weekend, and it didn't seem like Congress was going to do anything about it. However, now, House Republicans are proposing a plan that would give the program five more years of funding, CBS News reported on Tuesday. And doing so would provide access to health care to almost 9 million women and children who rely on the program.
"CHIP, which has enjoyed broad bipartisan support, helps lower- and middle-income families that otherwise earn too much to be eligible for Medicaid. Besides children, it covers 370,000 pregnant women a year," according to NPR.
And now, a funding bill is set to be voted on in the House on Wednesday, along with "an additional $1 billion for Puerto Rico's Medicaid program," NPR reported.
Fortunately, this vote can't come soon enough. As it stands, states could be forced to roll back their programs unless additional funding is approved. And, it could take a lot for both parties to agree on something. As CBS News noted, "Democrats were opposing cuts in other health spending that Republicans have proposed to help pay for the extension."
In fact, the CHIP funding bill would reportedly provide nearly $120 billion to states, but that money has to come from somewhere. And it's that little detail that could cause the bill not to pass. Because, as it stands, Republicans have proposed "raising Medicare rates for wealthier seniors, redirecting dollars from the Affordable Care Act's prevention fund and shortening a grace period for enrollees who don't pay their premiums," according to The Washington Post.
And it's this precise idea that has many worried that this bill won't actually pass. Because after Republicans' numerous failed attempts to repeal and replace the Affordable Care Act, this new bill seems like another way of doing just that — but on a smaller scale.
Right now, CHIP funding is in an extremely precarious state for several states at the moment. "Arizona, Minnesota, North Carolina and the District of Columbia would run out of money by December," and many others would follow suit by March 2018, the Medicaid and CHIP Payment and Access Commission reported.
But, the House bill isn't perfect, as stated above. In addition to cutting funding to other programs, the bill would reportedly also "cut some federal payments to hospitals to pay for extending the children's health program," according to STAT, which seems to be almost like taking two steps forward, and three big jumps back.
Nevertheless, it's clear that some kind of solution is needed. If nothing is passed to continue funding for CHIP, millions of children will be at risk of not having any health care. There are real children on the line, as pediatrician Dorothy R. Novick wrote in The Washington Post:
Consider my patient who grew up in foster care, put herself through college and now earns a living as a freelance clothing designer. She is now a mother herself, and I treat her children. Her 1-year-old son has asthma and her 3-year-old daughter has a peanut allergy. They are able to follow up with me every three months and keep a ready supply of lifesaving medications because they qualify for CHIP.
With so much on the line, Congress needs to do something and fast to save this essential funding for the kids and families who depend on this important program.
Watch Romper's new video series, Romper's Doula Diaries:
Check out the entire Romper's Doula Diaries series and other videos on Facebook and the Bustle app across Apple TV, Roku, and Amazon Fire TV.