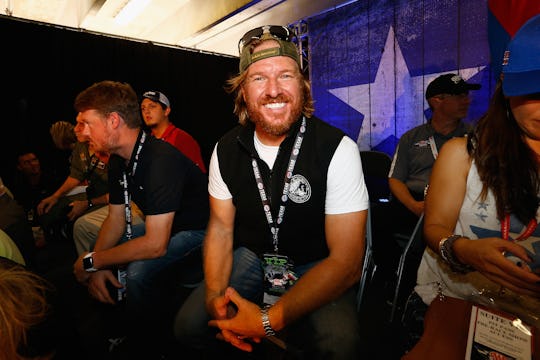 Jonathan Ferrey/Getty Images Sport/Getty Images
Chip Gaines Hinted At A Possible Baby Number 6 Because "Crew Needs A Sister"
They only have a home-design empire, a construction business, a magazine, a few rental properties, a restaurant and, don't forget, five kids, including a four-month-old baby boy. But when Chip Gaines hinted at the possibility of baby six, what occurred to me was... these guys are just cool, calm, and collected enough to actually make it happen, and happen well.
In a new interview with People magazine, Chip noted that, while the owners of the Magnolia Design empire never even planned on having baby number five — the adorable Crew — to begin with, they also haven't ruled out yet another little bundle of joy.
And Chip, who spoke with the magazine alongside his wife, Joanna, had a very specific reason for why he might be up for going even bigger with his already-big brood. "I think we have to have another one because I'm particular about the only child thing," Chip said. "Crew needs a sister to manage this whole thing out. Don't be surprised if No. 6 is in the cards!"
Chip and Joanna, already parents to Drake, 13, Ella, 12, Duke, 9, and Emmie, 8, according to Country Living, have the life experience now to understand that little kids, even the teeniest ones such as Crew, just don't stay little kids forever. "It's hard to believe this little turkey [Crew] will only be 10 years old when Emmie is graduating from high school," Chip added.
Now, this makes me think that this might really actually happen. After all, this family barely missed a beat when Crew was born. In fact, their multitasking was so complete — try making cornbread with a newborn in tow — that they laughed it off when they accidentally left Crew's car seat on the stove, post-baking. (You can be sure they won't do that one again, but they also didn't freak out.)
The only crimp in the plan? The actual person who has to do the whole baby birthing-and-carrying thing isn't Chip, of course, it's mom Joanna. She told People in an interview for the same article that this last pregnancy, having hit the big 4-0, wasn't quite as easy as the others. "When I first got pregnant I kept telling everyone at the office, 'Guys, I am my best self when I'm pregnant.' And then, for whatever reason, I was limping into work and I couldn't breathe. At 40, it's definitely a little different," she joked.
Still, with business never been better — Business Insider estimates they each have a personal fortune of $5 to $9 million each — and a proven track record of working together to launch, like a zillion new businesses, it doesn't seem that far-fetched that another baby may happen in the near future.
Keep in mind, they've endlessly said how important family is to them, and though they keep the kids out of the limelight for the most part, they're also clearly never far from their parents and their many business ventures.
"I've never been happier," Joanna shared with People about the couple's current blessings, which include Joanna's new design book, Homebody: A Guide to Creating Spaces You Never Want to Leave, which will be published on Nov. 6.
Yup, I think given the Gaineses determination, drive, and work ethic, another baby — and another opportunity to create a nursery — may well be in the cards.