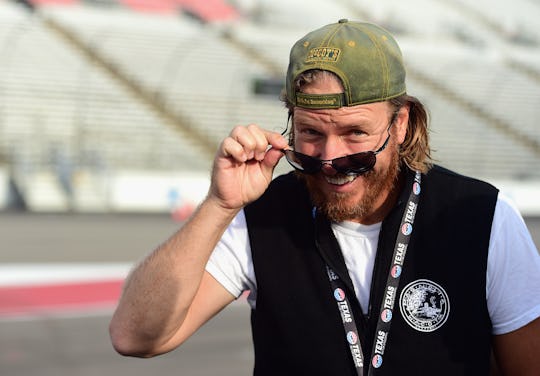 Jared C. Tilton/Getty Images Sport/Getty Images
Chip Gaines' New Photo Of Baby Crew Will Melt Your Heart
You're not even going to need any Halloween candy after you see this! Chip Gaines shared the sweetest photo of baby Crew and it's enough to give a person cavities. In a good way. In all the right ways.
The photo was popped onto social media and shows Crew sleeping peacefully in his carrier, all wrapped up in a green blanket. While the baby's face is blurred out, his feet are the focus of all the attention for Gaines. "Look at those 10 little toes.. he doesn't know it yet, but those tiny feet are going to do amazing things someday." #5 #babyCrew" he captioned it. (They are pretty cute little chubby baby feet.)
Though the Gaineses don't post a lot of photos of their children, Daddy Gaines has been having a bit of fun doing so with his newest little one. On Oct. 12 he uploaded a photo with Crew wearing a telephone headset. "Thank you for calling @magnolia, how can I help you? #GuestServices" he captioned the pic, referring to the store and bakery complex he co-owns with his wife, Joanna. But Gaines is more often sentimental when he does post pics of his kids, like one with his daughter where he is teaching her how to milk a cow with an arm around her. "Sweet Emmie Kay.. always up for learning new things. #farmlife" he wrote.
In another with baby Crew draped over his arm, fast asleep, Gaines simply wrote "My heart is full.."
Spending more time with their five children is one of the reasons the Gaineses gave for ending the run of their massively popular HGTV show, Fixer Upper. In October 2017, one month after announcing the end of the show, according to TODAY, Gaines told People, "I realized the show was demanding time from me, and I needed to be giving it to our businesses, to our relationship and my family. How far can you push it before something really does break down? And that's kind of where we landed."
And since then – though fans everywhere may still be in mourning – the Gaines' feel they made the right choice. "Unfortunately, I don't think if they came back and offered a billion dollars that we would step back at this point," the couple told E! News. "We are pretty headstrong and when we feel like it is the right decision for our relationship, for our family, for our business, it would take an act of congress to knock us off that position."
Of course having a new baby is enough to keep anyone busy, so they're probably not even noticing the big hole in their life left by the series. They're getting used to the new baby routine all over again.
This time though they have a lot of help – four older brothers and sisters who simply adore their little brother, Country Living reported. Joanna recently told a crowd at their annual Silobration event about the sweetest kind of sibling rivalry, ""It's been so fun with the kids. We never get to carry the baby because from the time I wake up, they get in line. Drake's number one, Ella's number two—they fight over who gets to hold him all morning, all night. It's so sweet."
It's hard to pick out what's the sweetest thing about this family so, like asking for someone's favorite Halloween candy, don't make them choose! Just keep giving fans photos and stories of all the fun.