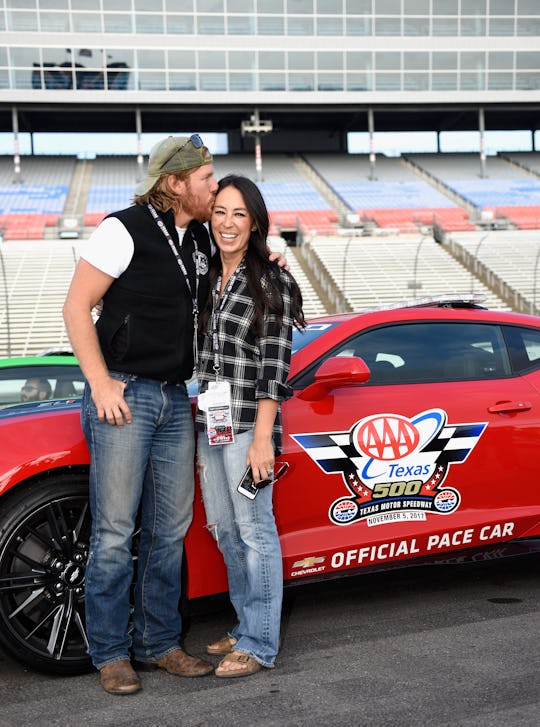 Jared C. Tilton/Getty Images Sport/Getty Images
Chip Gaines Cuddling Baby Crew In This New Photo Is Just Too Precious
Fixer Upper alums Chip and Joanna Gaines welcomed their fifth child, a baby boy named Crew, into the world on June 23. And as one might expect, fans can't get enough of Crew, especially where it concerns snaps of the little guy with his adoring family. Case in point: People absolutely *love* this pic of Chip Gaines cuddling baby Crew in a hammock. In fact, it could become one of Chip's most popular pics to date, a possibility that's not too surprising when you consider the post is overflowing with cuteness. *Insert heart eyes emoji here*
When it comes to social media, Chip is typically less forthcoming than Joanna. The dad prefers to share a post to Instagram every few weeks or so, while Joanna shares snaps of her life every couple of days. And you can easily note the couple's different approaches to social media in their pictures of Crew — Chip has shared two pics of the newborn as of Aug. 9, while Joanna has uploaded 10 photos of the infant. Although fans probably want Chip to amp up his coverage of Crew's first months of life, sometimes less is more. A perfect example of this is a sweet photo Chip shared of Crew on Thursday. "#thegoodoldays," Chip captioned a shot of Crew resting on his chest while the two lounge on a hammock.
Yep, it doesn't get any more precious than this. From Chip's tipped hat to the position of Crew's head, this snap is one for the history books. Too cute.
Shortly after Chip shared the post, fans took to the comments section to gush over the duo.
"So cute. Love that bonding," someone wrote on Instagram.
A fan added: "I just love how he's still swaddled up looking like a newborn!"
"JUST TOO ADORABLE!!!!!!❤" a person commented.
"That's how you do it. Living your best life right now," a particularly smitten fan said. "All day everyday is the good ol days 💯👍😊."
As you can probably already tell, Chip is a man of few words caption-wise, but he makes up for that in imagery. Fans caught a glimpse of this when Chip shared his only other photo of Crew to the 'gram on July 13, 10 days after he made his debut. "My heart is full..," Chip captioned the heartwarming shot on Instagram.
Of course, Chip is under no obligation to share pics of his kids. And it's worth noting Chip and Joanna prefer to keep their children off of the 'gram (one can assume Joanna will slowly stop sharing pics of Crew once he gets older) because of privacy concerns. In fact, Chip and Joanna reportedly ended Fixer Upper in an effort to protect their children. "People drive by and like to take pictures in front of their house," an insider said at the time, according to Us Weekly. "I think they just want to take a step back from it." Makes sense.
On the other hand, it's possible Chip doesn't share as many photos as Joanna because he is busy soaking up every single second of parenthood in his own special way. Chip was really psyched to welcome Crew into the world, after all. "I really believe that I am the luckiest guy in the world to father these four (soon-to-be five) beautiful babies. Hands down, it's my favorite job of all," Chip penned for Country Living magazine this past Father's Day. I'm not crying, you're crying.
So, here's to Chip looking all adorable with baby Crew on a hammock. I can't think of a sweeter image at the moment, and I think Gaines' fans would agree.