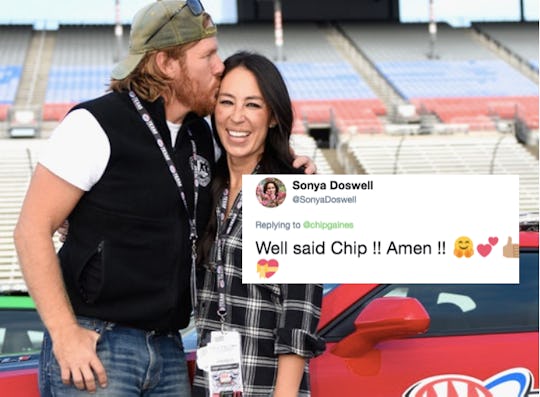 Jared C. Tilton/Getty Images Sport/Getty Images
Chip Gaines' Sweet Valentine's Day Message To Joanna Will Make Your Heart Flutter
When you're in love, you don't need one random day in February out of the other 364 days of the year to express it to your partner. But, when Valentine's Day does pop up every year, it's the one day out of the year when people can display that love for each other publicly without judgement. HGTV's Fixer Upper's Chip and Joanna Gaines are the definition of "couple goals" every day of the year — but Chip's Valentine's Day message about his marriage to Joanna, who's currently pregnant with the couple's fifth child, will have you swooning even harder on this Valentine's Day.
Chip and Joanna go together like an old home in Waco, Texas and shiplap. The two home renovators work their magic for the Fixer Upper cameras and audience members alike — with Chip's handiwork and Joanna's eye for design, the two create magic on camera. And it is clear their compatibility and relationship is even stronger off camera. Chip and Joanna have been married for 15 years, according to Country Living, have four kids together, and with a new baby on the way, they give a definition to the phrase "couple goals."
But there is no secret to the success of their relationship — it's just about putting in hard work. At least, that is what Chip revealed on Twitter on Wednesday, where he opened up about his marriage and shared the cutest message with Joanna. "Every morning I wake up committed and pray she does the same," Chip tweeted. "And so, today, again, I choose my beautiful bride. To have and to hold..'til death do us part. Happy Valentine's Day sweet girl!"
Can there be a collective "awwww"? Not only is that the sweetest thing, ever, but also reveals the secret to the longevity of their relationship — waking up each morning, and promising to stay committed to one another. If that isn't great relationship advice, then I don't know what is.
This tweet is incredibly reassuring to some viewers, who might have heard rumors last year that Chip and Joanna were getting a divorce. This clearly wasn't and still isn't the case, judging by his sweet Valentine's Day message. During an appearance on TODAY, Chip and Joanna addressed the rumors together, reassuring fans that they had no idea where the divorce rumors came from, according to E! News. "I'm like, 'I can't believe these things are happening to us,'" Chip said during the interview. "Because part of me thinks, 'Who would care about that?'"
Whether Chip wants to believe it, plenty of people are invested in their relationship. And, on Wednesday, fans took to Twitter to swoon over Chip's Valentine's Day message to his wife.
Yes, their relationship is really that perfect — at least, according to fans.
But people are going to be seeing less of the Gaines' relationship when Fixer Upper goes off air later this year, much to the disappointment of fans. In September, Chip and Joanna announced that Season 5 of Fixer Upper would be their last so they could take some time for themselves, their businesses, and their family. Chip elaborated on this, telling people People in October:
We have the chance to regroup and refresh and find out in two years, thank God we stopped and gave each other time and energy and loved our family more than we would've had the resources to do otherwise. Hopefully that will pay dividends down the road.
With a new baby on the way, Chip and Joanna are definitely taking a break to focus on the important things at the right time — and if that means seeing less of them on TV, then so be it.
Chip's Valentine's Day message to his wife not only shows that their relationship is strong, but it will continue to be strong when they welcome their new child into their family, and when their show goes off air. Just as long as they continue to choose each other at the end of the day, they will continue to succeed and their fans will continue to swoon from afar.
Check out Romper's new video series, Bearing The Motherload, where disagreeing parents from different sides of an issue sit down with a mediator and talk about how to support (and not judge) each other's parenting perspectives. New episodes air Mondays on Facebook.