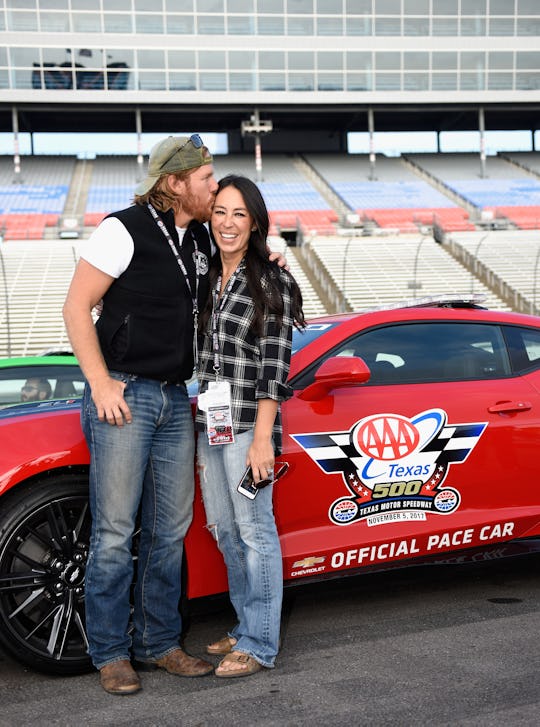 Jared C. Tilton/Getty Images Sport/Getty Images
Chip Gaines' 15th Wedding Anniversary Message To Joanna Might Be His Sweetest Yet
It can be hard to believe that true love exists in Hollywood. So many stars seem to have these picture perfect relationships and then surprise everyone with devastating news of a split. But it's easy to believe in one certain marriage, especially now that there's even more reason to love this couple after Chip Gaines posted the sweetest wedding anniversary message to his wife Joanna on Thursday.
The HGTV stars have been married 15 years and they seem to have one of the realest and most enviable relationships. Since their flagship show, Fixer Upper, recently ended, fans certainly miss seeing their chemistry as they tackled renovations. But, thankfully, the couple continues to showcase their teamwork with a behind-the-scenes show called Fixer Upper: Behind the Design. And every once in a while, they take to social media to post sweet messages of support. Today, Chip showed off his poetry skills with a sweet anniversary tribute to his bride, calling Joanna his "sweet girl" and hoping for many more years.
It's just the kind of thing Chip is known for doing. On Joanna's birthday, for instance, he asked Twitter to give her the gift of a million followers and promised to donate $1 to St. Jude Children's Hospital for every new follower she got that day. He also wished her a happy birthday, with the hashtag, #40neverLookedSoGood.
But he doesn't limit his displays of affection to her only on social media. For example, when Joanna's cookbook was released in late April, Chip showed up in the crowd for her appearance on the TODAY show, enthusiastically displaying a sign saying "I [heart] Joanna Gaines!" Of course, he also tweeted his support with the hashtag #fangirling.
But Chip isn't the only one who gushes about their love on social media; Joanna had her own sweet anniversary message to post today, too. "It's been a good fifteen years @chipgaines. Here's to fifty more ❤️," she wrote.
Joanna is known for her loving support of her sometimes zany husband. He recently ran his first marathon, the Silo District Marathon in Waco, and she took her pride to Instagram and Twitter. "Chip I couldn't be prouder of you," she captioned her Instagram. "I am thankful for your big heart and big vision. Go get 'em this weekend, and you better believe I'll be the first in line at the finish to give you the biggest hug! #yourbiggestfan #yougotthis #26.2miles."
And in 2017, apropos of nothing, Joanna posted an adorable photo of her and Chip with the simple message: "I like this guy ❤️."
Offline, Joanna has also shown amazing support for her hubby by going all in to help him realize a dream of owning a breakfast restaurant. People reported that Chip's goal was revealed during Season 5 of Fixer Upper and the couple worked together to see it come to life. Magnolia Table opened in February of this year, according to People. "I always do a heavy, bigger breakfast but Jo is the exact opposite. She was kind enough to come with me on this one, and we are going to do up a breakfast joint here in town," Chip told Southern Living during the construction.
With all that romance and mutual affection, it's no wonder how excited the two are to be embarking on their own, very personal big project — a fifth baby. Chip, in his true funny fashion, told the whole world on social media that the baby was conceived after a very romantic concert by a country artists Johnny Swim, which puts their baby-to-be's due date around July. How he got this tweet past Joanna without a fight is, honestly, a mystery.
Congrats to this happy couple. Everyone else is looking forward to a long and happy marriage for them too, so we can all keep following their adventures and sweet love story.