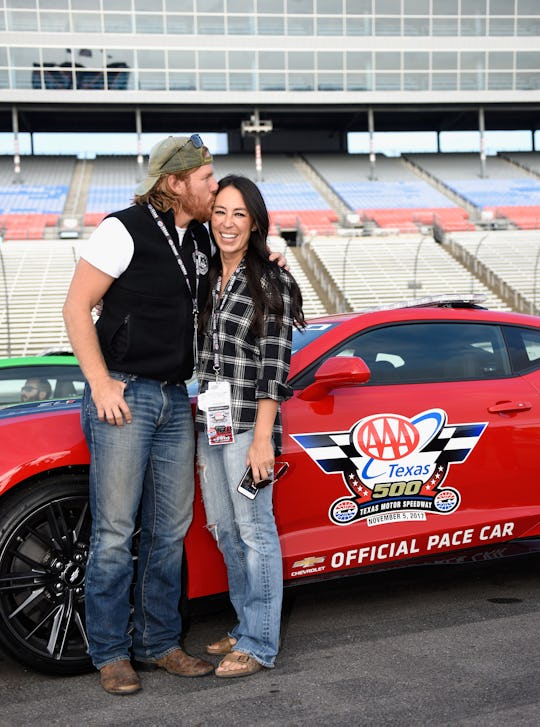 Jared C. Tilton/Getty Images Sport/Getty Images
Chip & Joanna Gaines Have Been Fined $40,000 For Violating A Strict Rule On 'Fixer Upper'
As the co-hosts of HGTV's Fixer Upper, Chip and Joanna Gaines are stone cold pros when it comes to renovating homes. However, that doesn't mean that they don't slip up sometimes. According to Deadline, Chip and Joanna Gaines agreed to pay a settlement of $40,000 to the United States Environmental Protection Agency (EPA) for violating a rule regarding proper lead paint protections.
UPDATE: John Marsicano, a Magnolia Spokesperson, shared the following statement with Romper via email:
The United States Environmental Protection Agency (EPA) filed a complaint alleging that Magnolia Homes did not comply with all of the requirements of the RRP Rule. Shortly after being first contacted by the EPA three years ago, Magnolia Homes took immediate steps to bring its activities into compliance with TSCA. Additionally, to take its commitment a step further, Magnolia Homes made the decision to implement a compliance management program in which it adopted an enhanced renovation record-keeping checklist for use by Magnolia Homes staff and subcontractors. We continue to be proactive with our efforts to ensure total compliance moving forward, and remain committed to raising awareness in our community and our industry.
EARLIER: The infraction is detailed on the EPA's website. The Gaineses' home renovation company Magnolia Homes, officially titled Magnolia Waco Properties, LLC, reportedly reached a settlement with the EPA for allegedly violating the Toxic Substances Control Act (TSCA) Lead Renovation, Repair and Painting Rule (RRP Rule), according to the EPA's website. As noted by the EPA's report, the agency reviewed footage from Fixer Upper in which Chip and Joanna renovated older homes, and concluded that their lead practices were unsafe and in violation of the RRP Rule at 33 different properties. Lead-based paint was banned in the United States in 1978, but many homes built before then still have it, according to the Centers for Disease Control and Prevention (CDC).
Specifically, the EPA noted the Gaineses reportedly did not secure EPA certification before renovating homes covered by the RRP rule, nor did they assign a certified renovator to those renovations. Additionally, according to the EPA, they allegedly did not provide home owners with pamphlets about lead-based paint hazards before doing the renovations, post signs delineating the work area, post signs warning people to stay away from the work area, or adhere to the RRP Rule's work practice standards, which include closing doors and windows while working and covering certain areas with plastic sheeting.
Luckily, Magnolia reacted swiftly when the EPA contacted the company, according to the EPA's report. This Magnolia promptly obtained RRP certification for its staff and made sure the entire team was complying for all current projects. Additionally, Chip and Joanna addressed the issue of lead-based paint in a March episode of Fixer Upper, and shared things renovators can do to keep process of home renovation as safe as possible. Chip also tweeted about the issue after the episode aired, directing his followers to the EPA's guidelines regarding the RRP Rule. Plus, Magnolia agreed to produce a video within three months of the settlement, in which Chip will educate viewers on lead-based paint safety and the RRP Rule, according to the EPA's website. And, on top of all that, Magnolia will be paying said $40,000 fine to the EPA, as the EPA's report noted.
It seems like Chip and Joanna are covering all their bases here, and it's great that they are working to remedy this situation in addition to simply paying the settlement.
So, why is it important to be cautious around lead paint? The Centers for Disease Control and Prevention explains that lead-based paint becomes even more dangerous as it deteriorates and becomes lead dust. This is particularly dangerous to children aged 6 and under, "because they are growing so rapidly and because they tend to put their hands or other objects, which may be contaminated with lead dust, into their mouths," according to the CDC.
Furthermore, kids can get lead poisoning by simply breathing in lead, according to the New York State Department of Health (NYSDOH) website:
A child can get lead poisoning by swallowing or breathing in lead. Often, lead poisoning is caused by lead you can't even see. Dust from lead paint is still the number one source of childhood lead poisoning.
Not to mention, the EPA notes some specific effects lead exposure can have on children:
Lead exposure can cause a range of health problems, from behavioral disorders and learning disabilities to seizures and death, putting young children at the greatest risk because their nervous systems are still developing.
If you have children and live in a home built before 1978, there are plenty of ways to keep your children safe. The NYSDOH recommends washing children's toys, the floors, and the windowsills often, even if they do not seem dirty. Additionally, the NYSDOH advises repairing any peeling paint while complying with the EPA's RRP Rule, keeping pregnant women and children away from renovations, and asking your landlord or realtor about lead paints before moving into a new home.
While the circumstances in this case are less than ideal, hopefully it will bring awareness about the dangers of lead exposure to families living in older homes.