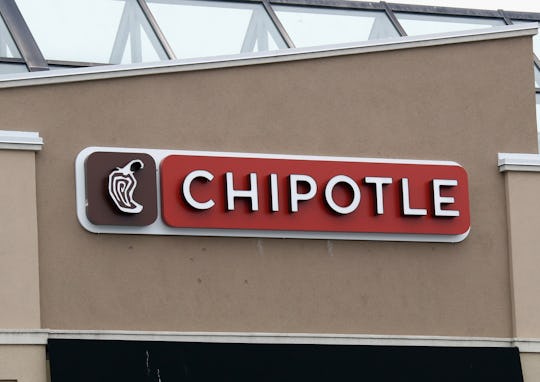 Bruce Bennett/Getty Images News/Getty Images
Chipotle E. Coli & Norovirus Outbreaks Began Months Ago, Reports Indicate
It's been a rough stretch for Chipotle. Here's a quick refresher: a Norovirus outbreak affecting 141 people at Boston College has been linked to the chain. The company is also dealing with an E. coli outbreak, which the CDC says is linked to the illnesses of 52 people in nine states sick — 47 of whom ate food from Chipotle. But the New York Post reported Thursday that Chipotle-related food poisonings started months ago, in July. In a statement emailed to Romper Friday, a Chipotle customer service representative said:
The safety and well-being of our guests is always our highest priority. We've taken aggressive actions to implement industry-leading food safety and food handling practices in all of our restaurants and throughout our supply chain, including:
Implementing high-resolution testing of fresh produce items in which a series of DNA-based tests will ensure the quality and safety of ingredients before they are shipped to restaurants, a testing program that far exceeds requirements of state and federal regulatory agencies, as well as industry standards.
Pursuing continuous improvements throughout our supply chain
Enhancing internal training to ensure that all employees thoroughly understand the company's high standards for food safety and food handling.
Work on Chipotle's enhanced food safety program began immediately after reports surfaced at the end of October that linked Chipotle locations in Washington and Oregon to E. coli cases in those states. Even though there is no evidence of exposures after the period of mid-October through early-November , and no new illnesses have occurred since then, officials at the Centers for Disease Control and Prevention have indicated that additional cases may yet be reported because cases make their way through various state health departments to the federal health officials with a lag. You can learn more on our website where we will continue to provide the most up-to-date information: Chipotle.com/update. You can also find more detailed information about our commitment to food safety at the following link http://www.chipotle.com/food-safety.
Although news on the situation has been limited to local reports, it looks like Chipotle's food safety woes started all the way in July 2015. According to Public Health — Seattle & King County, four people got E. coli after eating at Chipotle restaurants in King County. In August, more than 100 customers reportedly contracted Norovirus after eating at a Simi Valley, Ca. Chipotle. And in Minnesota in August and September, there were more than 64 reported cases of salmonella linked to 22 Chipotle restaurants.
As Chipotle acknowledged in its statement, the number of people affected may increase. Seattle lawyer William Marler, who reportedly specializes in food safety cases and is representing 74 victims in the lawsuits against Chipotle told The New York Post, "For every one person they count, there are about 10 people who go to the doctor and don't get a stool culture."
In an e-mail to the Post, Chipotle spokesman Chris Arnold referred to the summer outbreaks as "a small number of isolated and unrelated incidents — in terms of geography and incident. . . There really wasn't a pattern." He continued, "Since all of this began, we have completed a comprehensive reassessment of all of our food safety and handling practices … and we have begun implementing that program."
The most recent outbreak occurred at Boston College, where 141 people, mostly students, contracted Norovirus after eating at Chipotle or being exposed to people who had. On Thursday the Boston Public Health Commission stated:
After receiving reports of multiple cases of gastrointestinal illness among patrons who ate at the Chipotle Mexican Grill in Cleveland Circle, the Boston Public Health Commission, the City of Boston Inspectional Services Department, and the Massachusetts Department of Public Health launched an investigation to determine the cause and the nature of the illness. As you know, early laboratory testing confirmed the presence of norovirus, but the additional cultures submitted for testing at the beginning of the outbreak have now returned as negative for bacterial pathogens, including E. Coli.
There are currently 91 known cases from people who ate at Chipotle; others who are contacts to these cases have also become ill. However, the information is constantly evolving. The restaurant remains temporarily closed while ISD and BPHC continue investigations.
On Thursday Chipotle CEO Steve Ells apologized for the Norovirus outbreak. In an appearance on the Today show, he said, "I'm sorry for the people that got sick. They're having a tough time. I feel terrible about that, and we're doing a lot to rectify this and make sure it doesn't happen again." In regard to the Chipotle E. coli outbreak, after which Chipotle's stock plummeted 10 percent this year, he told host Matt Lauer that Chipotle has been testing every ingredient used at Chipotle, and they've all come back negative for the bacteria.
According to ad agency Moosylvania, Chipotle is well-loved among Millennials. It ranks 56 out out of the top 100 brands Millennials chose as their favorites. Time will tell if the brand is able to pull themselves out of this controversy — and find a way back into all of our hearts and stomachs.