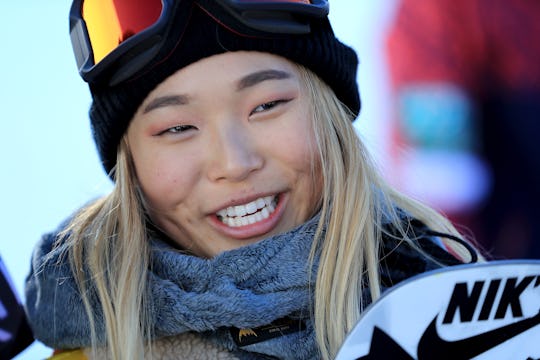 Sean M. Haffey/Getty Images Sport/Getty Images
Chloe Kim Is Taking Home The Gold, But Her Dad Is Seriously Winning At The 2018 Winter Olympics
Jong Jin Kim calls himself the "American Dream" as his daughter, Chloe, competes (and wins!) in the 2018 Winter Olympics. And now, as you may have noticed, Chloe Kim's dad is seriously winning at the games himself, with his daughter picking up a gold medal for her win in the women's halfpipe competition, as CNN reported. It's a win for everyone in the Kim family, but Jong Jin's reaction was so adorable. Really, there's nothing cuter than a proud dad's excitement for his little girl.
After Chloe's big win, she hugged her parents and her father pointed to himself, as he was overheard saying, "American Dream", as reported by CNN. As his daughter competed as a snowboarder, Jong Jin held up a homemade sign with pink letters that read "Go Chloe" and happily cheered her on. Chloe, who is just 17 years old, has managed to attain an Olympic gold medal before even completing high school and it was a long road to get to this point... especially for her father.
The Associated Press reported that Jong Jin is a Korean immigrant, who quit his job an estimated 10 years ago in order to help his daughter become a professional snowboarder.
It was a major sacrifice for the proud father, but it looks like all of the hard work has paid off. And, the AP revealed that when young Chloe won, she said that she did it for her family.
"My family has sacrificed so much for me, to help me accomplish this dream of mine and get me to this point ... So being able to do it here, in their home country, it's amazing," she told reporters, according to NBC Olympics. Chloe also told TIME that her dad is always sure to send her text messages for encouragement, in addition to his every day sweet words. Chloe told TIME he texts her phrases like, "Good luck. You can do it," and "Let's be a dragon today."
When Chloe's dad decided to quit working in order to help her become a snowboarder, she admitted to The Washington Post that she had no idea, explaining:
Obviously, when I was 8, I had no idea what he was doing. It was, like, "Why is Dad home more?" You know? But now that I think about it, you know, I feel like it was a really bold move, and I can't believe my mom was okay with it.
It was actually Jong Jin who taught Chloe how to snowboard, as reported by USA Today Sports, so, for him to be able to cheer Chloe on at the Olympics is truly amazing for him.
In addition to her father watching her compete, at his side were Chloe's mother, Boran, her two sisters, three aunts, two cousins, her grandmother, Moon Jung ae, and several other close supporters, according to the AP. Prior to Chloe appearing in this year's Olympics, Chloe told People that participating in this year's Winter Games in her family's home country is extra special. She explained:
My parents are really excited about it, and it's some crazy luck that my first Olympics are going to be in Korea where my parents are from. And a lot of my relatives over there have never really seen me compete before, so I think it's going to be pretty cool for everyone. It's really exciting, my whole family is really excited about it, so that gets me even more stoked!
The Olympics were a full family affair for Chloe and her dad.
While Chloe's biggest fan could easily be her father, her mom, Boran, is her best friend, as Chloe has told People. Chloe said that she and her mother "always go shopping together" or take their dog to the park. She, her mother and father, travel together for all of her snowboarding competitions, as well as vacations. But, once Chloe turns 18 years old, she told People that she may start traveling alone.
It wouldn't be the first time that Chloe went to a foreign country by herself, though, as Heavy.com reported that her father sent her to live in Switzerland for two years so that she could learn French. In Switzerland is actually where her parents first met and Chloe was able to stay with extended family while she lived there, according to Heavy.com. Clearly, Jong Jin has always pushed Chloe to be the best version of herself and to become a well-rounded, educated person.
When speaking with CNN Sports about his daughter Chloe's win at the Olympics, Jong Jin gushed about how proud he is of his daughter, saying:
Now I'm happy, all the stress is gone. I'm the dad of an Olympic gold medalist, not many people have this kind of feeling.
This is definitely true, Jong Jin. How many dads out there can say they're the parent of an Olympic star? He is truly a winner, and surely, this won't be Jong Jin's last proud moment.
Check out Romper's new video series, Bearing The Motherload, where disagreeing parents from different sides of an issue sit down with a mediator and talk about how to support (and not judge) each other's parenting perspectives. New episodes air Mondays on Facebook.