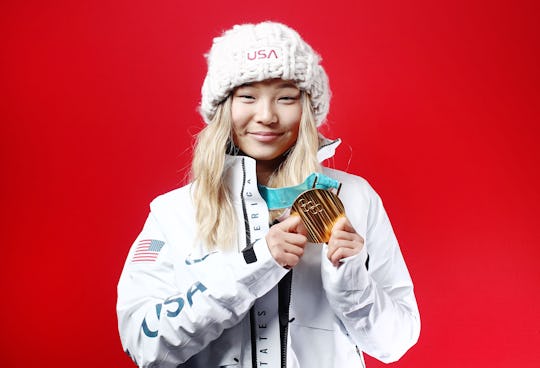 Marianna Massey/Getty Images Sport/Getty Images
Chloe Kim's Net Worth Is Just As Impressive As Her Moves On The Slopes
After Chloe Kim made an impressive debut at the Winter Olympics this past week, it was hard to believe that she could do it all at just 17 years old (but did anyone really have any doubts?). Not only is Kim impressive on the slopes, but she is also super impressive in real life. So it's really no wonder that people are wanting to talk about Chloe Kim's net worth, especially after her stunning debut at the Olympics.
When I was 17-years-old, I only had my allowance money to my name. But when you're Kim and you're a snowboarding superstar, things work out a little bit differently. Even before she became a household name because of the Olympics, Kim was already a superstar in her own right, according to Forbes. Kim made Forbes' 30 under 30 list in 2017 before her Olympic debut due to her appearances in snowboarding competitions. Kim is now worth a reported $400,000, according to the Daily Mail. If this doesn't want to make you want to take up snowboarding, then I don't know what will.
Winning that gold medal in the women's half pipe event didn't hurt, either. This year, winning a gold medal for Team USA earned Olympic athletes, like Kim, a cool $37,000, according to Good Housekeeping.
Because the Winter Olympics only happens every four years, athletes and snowboarders compete at different competitions and make a lot of money through sponsorships. So her sponsorships with Nike and Toyota, according to CNBC, don't hurt her net worth, either (they actually help, a lot).
Kim is proud of the sponsorships that she takes. Kim told CNBC:
I love working with sponsors. It's so much more than just a contract. I genuinely only want to work with people that I agree with on certain things. There were many sponsors I didn't want to work with because I didn't agree with their messages that they wanted to use me to convey.
Contrary to popular belief, Olympic athletes don't make their money from attending the Olympics. This is because, according to E! News, the U.S. Olympic Committee doesn't receive any funding from the government. Many Olympic athletes, especially those competing in lesser known sports, have day jobs because of this, according to E! News.
But it is likely that Kim won't be needing to work a day job after her stellar Olympic debut. Kim has competed in five different X Games, a yearly snowboarding competition, and has earned gold at three of them. Unlike the Olympics, the X Games rewards its winning competitors — first place finishers win a reported $50,000, according to HowStuffWorks.
Because Kim is a snowboarder, it isn't a surprise that people are comparing Kim to Shaun White, who made his Olympic debut at the age of 19, according to the New York Times at the 2006 Winter Olympics. It was there, at the 2006 Winter Olympics, where White earned his first gold medal as a teenager, like Kim herself. In the 12 years since White won gold, a lot has happened — including an increase in his net worth. White is now worth a reported $40 million, according to Business Insider. If Kim continues with her path of success she very well could be at White's level one day — and it's definitely possible that she will get there.
After the 2018 Winter Olympics, Kim has such a bright future ahead of her, especially at her young age — and continuing her education isn't out of the picture just yet. In an interview with Vogue in November, Kim revealed that she had been scheduling college tours and was interested in visiting both Princeton and Harvard University.
Wherever her future may take her, Kim's debut at the Winter Olympics shows that this won't be the last that people will be hearing from here.