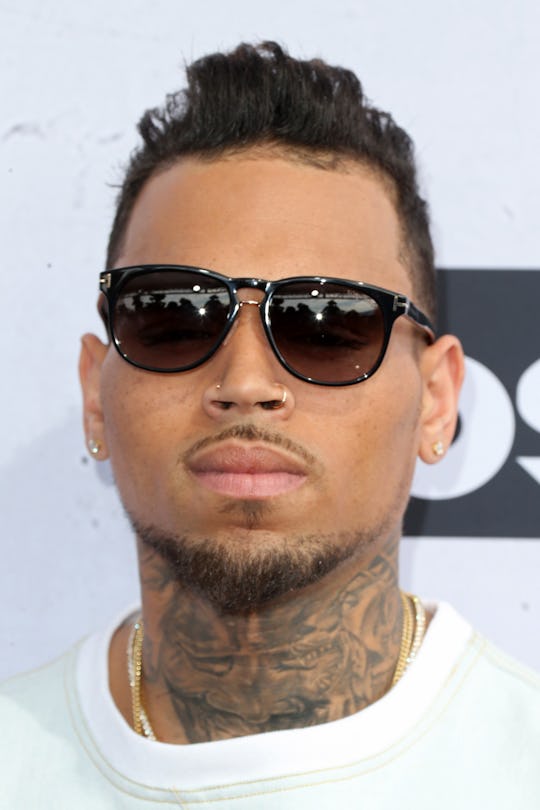 Frederick M. Brown/Getty Images Entertainment/Getty Images
Chris Brown Was Arrested & Is Facing Some Pretty Serious Charges
On Tuesday, singer Chris Brown was involved in a nearly full-day stand-off of sorts with Los Angeles police at his home. After allegedly tossing a duffel bag out of a window — which allegedly contained several suspect items according to police — and subsequently surrendering, Chris Brown was arrested. Now, it looks like the 27-year-old could be facing some serious charges.
According to authorities, a houseguest at Brown's residence called police from a cell phone and alleged that Brown had pulled a gun on her early Tuesday morning. Officials from the West Valley Robbery Homicide Division quickly surrounded the house and attempted to negotiate with the musician. The details about what really went down are still unclear.
According to the L.A. Times, Baylee Curran called police after she and a friend had gone to Brown's house to reportedly hang out and "discuss future projects." There were other people in the house, according to Curran's report, and someone was allegedly showing off diamonds and other jewelry. Curran claimed, "That's when Chris pulled his gun and told me to 'Get out.' He said 'I'm sick of you girls, get the F out!'"
Curran alleged that she had to retrieve her cell phone when she left the house, since Brown allegedly mandates that houseguests leave phones at the door. Curran alleged that she was asked to sign a non-disclosure agreement as well; She reportedly refused, took her phone, left, and called the police. Meanwhile, Brown was posting to Instagram about police closing in on his house.
Brown then posted a few videos to Instagram on Tuesday morning about how he was "asleep half the damn night" and woke up to helicopters surrounding his home. In one video, Brown stated, "Good luck. When you get the warrant or whatever you need to do, you're going to walk right up in here and you're going to see nothing, you idiots. I'm tired of ... dealing with y'all." That video corresponds to officers' reports of trying to enter the home after Curran's report and being told to get a warrant and come back.
When officers returned, according to the L.A. Times, about "half a dozen" people exited the home and cooperated with authorities. Brown has since been arrested on "suspicion of assault with a deadly weapon."
Brown has a history of violence. In 2009, he was given five years probation after pleading guilty to a count of felony assault on Rihanna, his girlfriend at the time. After violating that probation, Brown was jailed for three months in 2014. Before then, Brown was reportedly in a rehab facility but had to leave after allegedly smashing his mother's car window during a family therapy visit.
Those, and the long list of other charges against Brown, might mean that Tuesday's standoff has some serious consequences for the hip-hop talent this time around.