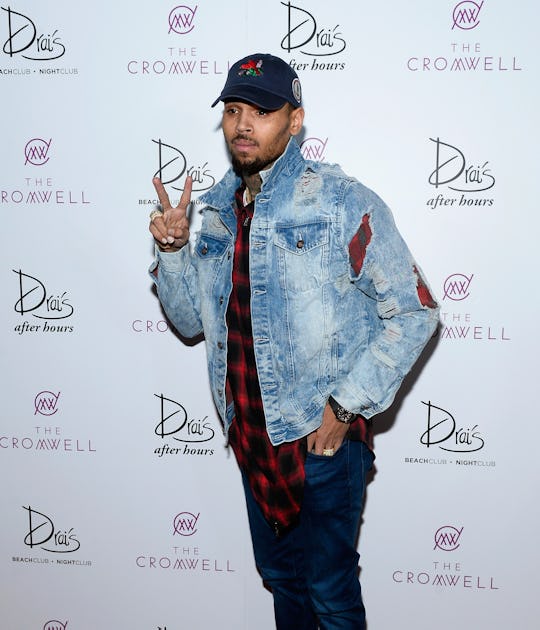 Bryan Steffy/Getty Images Entertainment/Getty Images
Chris Brown's Response To Kehlani's Suicide Attempt Is So Misguided & Problematic
If Chris Brown is trying to convince the world he is really not a decent human being, he's unfortunately doing a decent job. Following the news that 20-year-old singer Kehlani was hospitalized following a suicide attempt, Brown took to Twitter to throw some major shade her way. Commenting on a now-deleted Instagram pic Kehlani posted showing herself in the hospital hooked up to an I.V., Brown accused her of basically showing off and trying to get attention. It's pretty clear that his comment was a total jerk move, but even more than that, Chris Brown's response to Kehlani's suicide attempt is so misguided and problematic. And he deserves to be grilled for it.
According to the Daily Mail, Kehlani was reportedly found unconscious at her home on Monday, and then taken to hospital, where she was kept on a psychiatric hold. She opened up to her Instagram followers about her suicide attempt the next day, writing, "I wanted to leave this Earth. Being completely selfish for once. Never thought I'd get to such a low point." And even though, uh, no one asked him at all, Brown then took it upon himself to offer his not-at-all-helpful opinion about Kehlani's Instagram admission, tweeting, "There is no attempting suicide. Stop flexing for the gram. Doing sh*t for sympathy so them comments under your pics don't look so bad."
According to Us Weekly, Kehlani had been dogged by rumors on social media that she'd been unfaithful to her boyfriend, NBA player Kyrie Irving, with her ex-boyfriend PARTYNEXTDOOR (real name: Jahron Anthony Brathwaite). Kehlani refuted this on Instagram, writing, "Don't believe the blogs you read. No one was cheated on and I'm not a bad person," and explained that she and Irving were already broken up when she reconnected with Brathwaite. Although she has since closed her Instagram account, according to the Daily Mail, Kehlani wrote,
I am severely utterly in love with my first love. Went thru a bad breakup and ended up easing into a relationship with a man who was one of my bestfriends [Irving]. Tho we realized we both weren't exactly at a time where we were prepared to do so.
Everyone is hurt and everyone is in a place of misunderstanding, but as of today I had no single wish to see tomorrow ... but God saved me for a reason, and for that I must be grateful cuz I'm not in heaven right now for a reason.
Brown, for one, seemed to be personally offended on Irving's behalf that the relationship didn't work out (he also tweeted "#KYRIEMVP" as part of his bizarre rant), but here's the thing: whatever the story behind Kehlani and Irving's breakup, Brown's comments are still completely ignorant. Regardless of what Brown might think, people don't actually try to kill themselves so that they can drum up sympathy on social media. People try to kill themselves because they are actually suicidal. And they fail at it all the time.
According to the American Foundation for Suicide Prevention, for every completed suicide in the United States, there are approximately 25 suicide attempts. And women attempt suicide three times as often as men do in any given year — primarily because men often choose suicide methods that are more likely to be lethal, like using a firearm.
But not only do suicide attempts happen often, having a failed suicide attempt can actually minimize the likelihood that someone would kill themselves later on. According to USA Today, only 10 percent of individuals who attempt suicide and fail try again successfully. Although reasons for this vary, the reality is that suicide is a permanent solution to what are usually temporary feelings — and treatment, such as antidepressant medication or therapy, can be incredibly effective at preventing people from becoming suicidal again. As Lanny Berman, executive director of the American Association of Suicidology noted,
Rage passes. Anxiety can calm. [But] death doesn't lead to anywhere but death.
Brown's reaction to Kehlani's post is representative of the stigma that continues to surround suicide — the idea that it's not real, or that it's something people do for attention. If you've never experienced suicidal thoughts, then it might be hard to understand why somebody would want to kill themselves (or why they'd want to talk about it afterwards), but that doesn't mean that they are faking.
In fact, according to the Tennessee Suicide Prevention Network, the majority of people who actually do kill themselves give some indication to others beforehand, and will actually admit to how they're feeling if they're asked straight out. This doesn't mean that they're lying, or that they don't actually want to die, but that they've reached a point where, for whatever reason, life seems so permanently hopeless that dying seems like a good solution. (And it's also why talking about it — and not being afraid to ask people directly if they are feeling suicidal — is an important prevention technique.)
Obviously no one will truly know how Kehlani was feeling or what the reasons were behind her suicide attempt, but statistics about suicide show that she was probably — like most suicidal people — struggling immensely. And when someone is in that space, they need support more than ever to overcome how they are feeling. Chris Brown might not be a fan of Kehlani's, but his opinions about suicide are wrong and dangerous. And like so many other things that he says, he should probably keep them to himself.