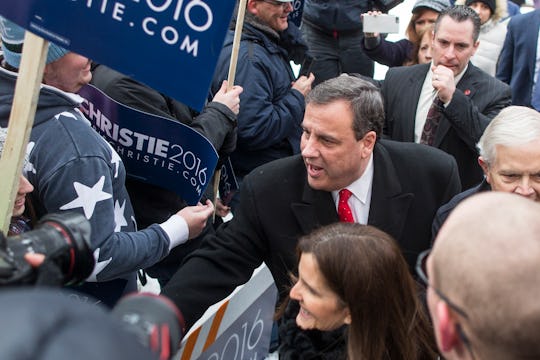 Scott Eisen/Getty Images
Chris Christie Drops Out After Finishing 6th In New Hampshire Primary
After months of bouncing along the bottom in opinion polls, New Jersey Gov. Chris Christie dropped his presidential bid, bringing his long-shot race for the party nomination to an end. The Republican candidate announced on Wednesday that he was ending his bid for the White House, after huddling in New Jersey with campaign aides to decide the fate of the campaign. The announcement isn't much of a surprise after Christie's disappointing finish in both the Iowa caucus and New Hampshire primaries. As a relative unknown on the national stage, Christie had always faced an uphill battle for the party nod. But why didn't Christie gain traction among Republicans?
Update: Christie officially suspended his presidential campaign on Wednesday evening, according to Fox News.
A major problem for Christie was that the field already had a tough-talking, brash personality — and the other guy's poll numbers were stratospheric. From the beginning of the GOP race, billionaire Donald Trump's outsized persona and no-holds-barred approach pushed the other candidates to the background; Christie had trouble breaking out of the single digits in the national polls — averaging just 2.5 percent since mid-January, according to RealClearPolitics.com.
Christie staked his presidential bid on a breakout performance in the New Hampshire primary, according to the New York Times. Since announcing his candidacy in June, Christie has spent no fewer than 100 days in New Hampshire, courting Independent and undecided voters at more than 100 events and 80 town halls, the Times reported. Christie even managed to secure an endorsement from the state's largest newspaper, The New Hampshire Union Leader.
A success in the Granite State would have added momentum to the campaign heading into South Carolina, where Christie is relatively unknown. The former governor needed a top five finish in New Hampshire to secure a spot in the Republican debate Saturday in South Carolina, according to GOP debate rules posted on CBSNews.com on Tuesday. The debates would have offered him free media coverage and a chance to continue hammering at the cluster of candidates vying for second place: Floriday Sen. Marco Rubio, Texas Sen. Ted Cruz, former Florida Gov. Jeb Bush, and Ohio Gov. John Kasich.
Rumors that Christie was considering a departure from the race began swirling when the former governor told supporters on Tuesday night that the Christie camp would head home after New Hampshire to decide the campaign's fate. "We came here to say that speaking your mind matters, that experience matters, that competence matters, and that it will always matter in leading our nation," Christie told supporters at a primary night party, according to MSNBC. "That message was heard by a lot of folks and it was stood for by a lot of folks here in New Hampshire, just not enough. Not enough tonight." It's unclear just who Christie will endorse.