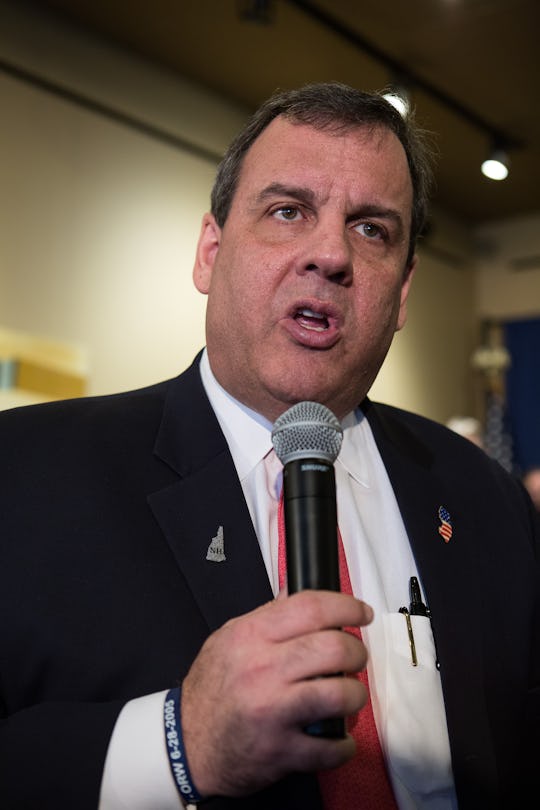 Kayana Szymczak/Getty Images News/Getty Images
Chris Christie Endorses Donald Trump For President — REPORT
New Jersey Gov. Chris Christie may have dropped out of the race for a nomination earlier this month, but he still has swaying power over his supporters. Christie officially endorsed Donald Trump, business mogul and GOP frontrunner, for president on Friday. "I am proud to be here to endorse Donald Trump for president of the United States," Christie said at a press conference, according to CBS. He also reportedly said that Trump "will do exactly what needs to be done to make America a leader around the world again."
Christie's endorsement will certainly give Trump a boost as the nominees head into Super Tuesday next week. Christie himself dropped out of the race after coming in sixth in the New Hampshire primaries, but had so far remained mum on endorsing another candidate.
The endorsement came only a day after Trump's opponents, Florida Sen. Marco Rubio and Texas Sen. Ted Cruz, grilled him during a Houston debate on Thursday. It was one of Rubio's strongest attacks on Trump, as he put down Trump's foreign policies, immigration views, and the legitimacy of his conservative views. "You're the only person on this stage that's ever been fined for hiring people to work on your project illegally," Rubio told Trump, according to CNN, commenting on the businessman's immigration policies. On Trump's plan to build a US-Mexico wall, Rubio added, "If he builds the wall the way he builds Trump Towers, he'll be using illegal immigrant labor to do it."
Christie's take on Rubio and Cruz's attacks? "Desperate people do desperate things," he said at the conference, according to USA Today. Christie contended that the two contenders were unprepared for a presidential role and unable to take on a race against Hillary Clinton, saying:
The single most important thing for the Republican Party is to nominate the person who gives us the best chance to beat Hillary Clinton. I can guarantee that the one person Hillary and Bill Clinton don't want to see on that stage come next September is Donald Trump.
Trump is currently standing at 38.3 percent in HuffPost and Pollster polls, followed by Cruz's 18.2 percent and Rubio's 17.1 percent. It's still unclear what difference Christie's endorsement of Trump will make, but Trump is already leading the Republican race, and it's beginning to look like he may be the GOP presidential candidate.
Super Tuesday will likely tell us more, as 12 states will cast their votes or caucus. So far, Trump has won in three out of the four caucus and primary events, despite losing by three percentage points to Cruz in the Iowa caucuses, which kicked things off at the beginning of the month.