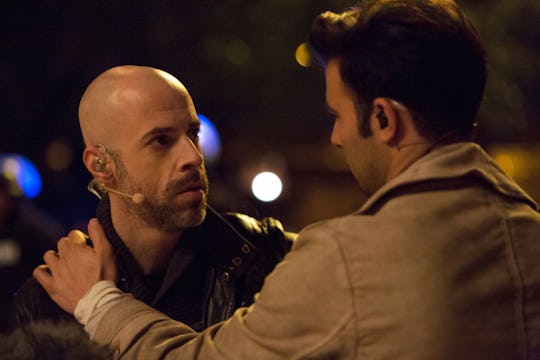 Chris Daughtry's "Bring Me To Life" Performance In 'The Passion' Was One Of The Best
Fox's live musical performance of the last days of Jesus Christ's life as they occurred according to the Bible, The Passion, aired Sunday night, and the musical numbers were pretty impressive. The show actually used modern pop songs to portray the stations of the cross. For example, Chris Daughtry's "Bring Me To Life performance was everything the Internet wanted from the night.
Daughtry first became famous after making it to the finals of another Fox show, American Idol. Daughtry's sultry and rock-inspired voice is pretty badass, thus why his cover of Evanescence's song, "Bring Me To Life," was exactly what viewers had been waiting for all night.
Daughtry played Judas, who ends up betraying Jesus in the Biblical story. He told Entertainment Weekly that The Passion's take on the well-known Biblical story was totally redone to make it modern and fresh:
It doesn't look like the typical picture of the Jesus story that we've seen growing up. It's not a dude in flip flops and a robe.
Well, thank God there were no flip flops. (See what I did there?)
Though Daughtry hasn't previously admitted to being a Christian in public interviews, some of his fans have said they believe he's Christian in his private life, but he's not a Christian artist (or at least doesn't portray himself as such). Daughtry even did an interview in 2013 about his album, Baptized, where he explained that the album wasn't actually about religion and it wasn't supposed to be religious.But, it's worth noting that Daughtry thanked Jesus in the liner notes of Daughtry, according to Plugged In.
Regardless of how he actually identifies, religiously, Twitter was obsessed with his version of "Bring Me To Life" on Sunday night:
The Passion was performed mostly live in New Orleans, and host Tyler Perry made a number of references to Hurricane Katrina, which devastated the city in 2005. Throughout the live showing of the musical, hundreds of people carried a 20-foot, illuminated cross from the Superdome to the live stage at Woldenburg Park, according to Deadline.
The other songs that the cast sang during the musical were chosen and arranged by Adam Anders, who also worked on the hit Glee. Clearly, Anders knew that assigning Daughtry powerhouse rock-inspired songs was the way to go, and people were pleased.
Daughtry told The New York Post prior to the show that it would help bring people "love and hope," which he said is "something we could use a lot of." Daughtry's performances certainly brought people both of those things along with just pure talent.
Here's full video of the performance for those who missed it.
Sure, there weren't any funny flip flops, but at least there was pretty good music.