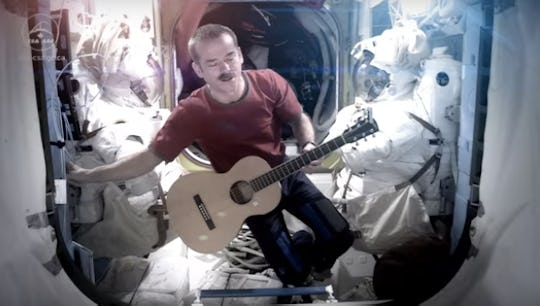 Chris Hadfield's David Bowie Tribute is Amazing & 9 Other Great Tributes
David Bowie died of cancer in his Manhattan home Sunday, and since the news broke, people around the globe have paid him the most beautiful tributes on social media. One of the most touching tributes so far is Canadian astronaut Chris Hadfield's rendition of "Space Oddity," the track that put David Bowie on the map in 1969. Bowie wrote the unique song after watching 2001: A Space Odyssey, according to Tech Insider, and the lyrics detail the story of an astronaut who loses touch with Ground Control and gets lost in space. It was also the world's first peek at a Bowie who was mesmerized by space.
So it's only fitting that Commander Chris Hadfield, the astronaut who stole the world's hearts during his time at the International Space Station, covered "Space Oddity" in space in 2013. Bowie himself called it "possibly the most poignant version of the song ever created" when he posted Hadfield's cover on his Facebook page. After hearing of Bowie's passing last week, Hadfield took to Twitter to pay homage to the artist, tweeting, "Ashes to ashes, dust to stardust. Your brilliance inspired us all. Goodbye Starman."
I can't help but think that with Bowie's space obsession — with songs titled "Life on Mars?" "Starman," and "Dancing Out in Space," among others — he would have thought Hadfield's send-off was perfect.
Other celebrities and fans pitched in with their best Bowie tributes. What struck me most was the breadth of the tributes that poured in. Bowie inspired not only fans and other artists — he touched several generations, and affected everyone from astronauts to authors. See some of the best below: