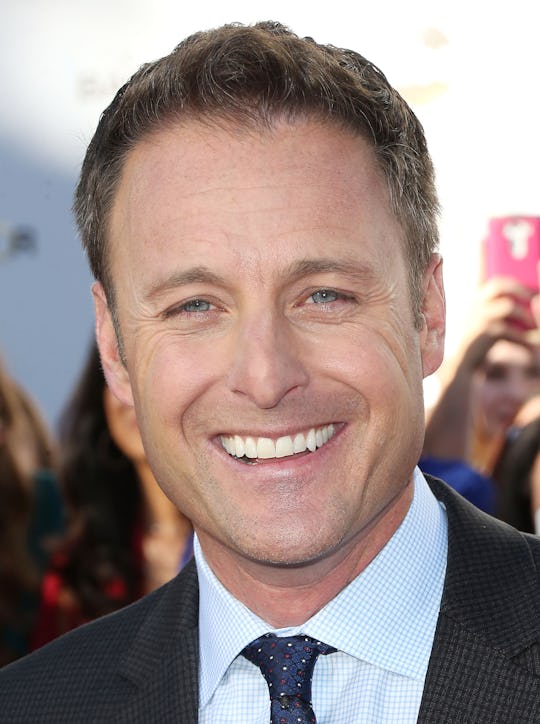 Frederick M. Brown/Getty Images Entertainment/Getty Images
Will Chris Harrison Weigh In On The 'Bachelor In Paradise' Incident?
It appears it's not all sunshine and beach parties in paradise. Production of Season 4 of Bachelor In Paradise has been suspended pending investigations of workplace misconduct on set. Host Chris Harrison's comment on the Bachelor in Paradise incident is still yet to come, but hopefully it will provide more insight on the contributing factors that led to the allegations, as well as the fate of the show's fourth season.
Update: People has obtained Chris Harrison's statement regarding the incident on Bachelor in Paradise. It reads:
"By now, no doubt, you have heard that we have suspended production on this season's Bachelor in Paradise. I can confirm to you that this is sadly the case. Out of respect to all involved, there's only so much I can and will say at this time. Normally with a situation like this I would not say anything until the incident is fully resolved, but with all the rumors and misinformation being put out there, I don't find that to be possible anymore.
Let me start by saying the safety and care of the cast and crew of our show is of the utmost importance to us. It is with this thought in mind that we made the decision to suspend filming. An investigation into the situation was started immediately. Warner Bros. is handling the details of that investigation. They're moving quickly to gather all the facts, and once that's done, a clear, concise decision can be made about where we go from here.
There are a lot of competing details in the various press accounts of the incident. And there's a lot of misinformation out there too. We urge everyone to be patient until the investigation is complete."
Earlier: According to Entertainment Tonight, DeMario Jackson, a previous contestant on the current season of The Bachelorette, was allegedly approached by Corinne Olympios, a competitor in the most recent season of The Bachelor. The two allegedly began to engage in some sort of sexual encounter until someone close to the situation made a complaint.
A source told Entertainment Tonight that things escalated quickly from "drinking all day, having a good time… the guys and girls were bopping around, talking to everyone, trying to make connections," to allegations of misconduct:
Everyone is just going about their business. Cameras are rolling. Producers are everywhere. That's when a "third party" felt uncomfortable, claiming misconduct in the workplace. As of right now, production of Paradise is suspended indefinitely. And they are sending everyone home and telling everyone else to stay home. DeMario and Corinne got sent home soon after.
The unnamed third party was later revealed to be a producer on the show. This producer also claimed that other producers were encouraging Jackson and Olympios to get together until the situation got out of hand.
The cast and crew were later sent home and there is still no word as to how the claims of misconduct will impact future filming or premiere dates. Warner Bros. issued statement, making its awareness of the allegations known:
We have suspended production and we are conducting a thorough investigation of these allegations. Once the investigation is complete, we will take appropriate responsive action.
Jezebel reported that alcohol was allegedly a contributing factor in the alleged misconduct. Both Jackson and Olympios were allegedly under the influence of alcohol when engaging in sexual acts, prompting the producer to file a complaint.
Although he hasn't gone on the record yet regarding this incident, host Chris Harrison has not shied away from making comments about issues surrounding The Bachelor franchise in the past. After the recent split of Ben Higgins and Lauren Bushnell, a Bachelor fan-favorite couple, Harrison discussed the breakup on Mario Lopez's radio show:
Apparently I did not see that coming. I love them both. They are really two of my favorite people we've ever had on the show and Ben is a really good friend. I know that they have struggled with the show and then kind of continuing on and doing their reality show and kind of where the show stopped and then where life began. So I know they were fighting through a bunch of stuff. But I don't know. I'll reach out to them. I'm very sorry to hear that because I do care about them very much.
It is clear that the outcomes of these shows are close to Harrison's heart. He has shown that he is invested in the happiness and wellbeing of the contestants. Bachelor fans are waiting for Harrison to comment on the most recent issue and hopefully the wait won't be too long.