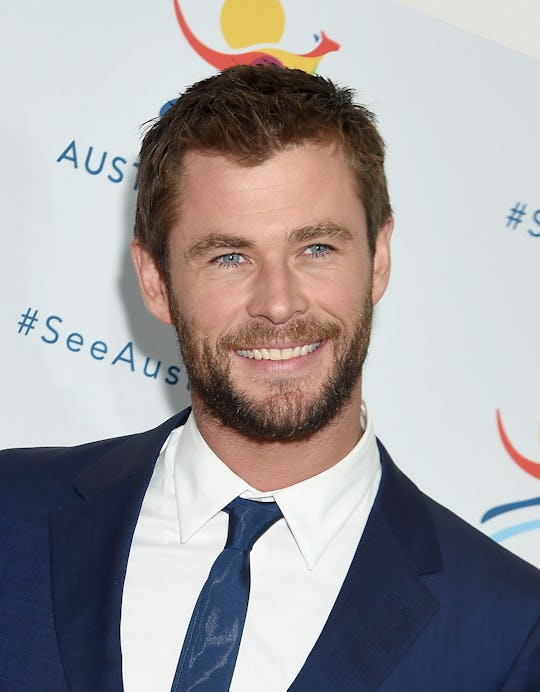 Jamie McCarthy/Getty Images Entertainment/Getty Images
Chris Hemsworth Naps With His Kids & Makes Everyone's Hearts Melt
He's scored big points in the box office after staring in the superhero movie Thor. Now, this Norse god has scored some even bigger and cuter points off screen after his wife posted an adorable photo of Chris Hemsworth napping with his kids that made everyone's hearts melt. If you happened be scrolling through Instagram on Thursday, you might have stumbled upon the photo posted by Elsa Pataky of her hubby having a deep snooze in an airplane seat with two of their little ones tightly nestled in his arms.
"Nothing better than sleeping in papa's arms!" Pataky captioned the photo, also in her native Spanish, on her Instagram. The adorable snap shows Hemsworth, 4-year-old daughter India Rose, and one of their 2-year-old twin sons fast asleep, with the hashtags "#naptime", "#familytravels", "#lovethemsomuch", and "#bestmoments" embedded below.
Hemsworth and Pataky tied the knot in an island ceremony in Indonesia during the 2010 Christmas holiday with both of their families present, just a few months after they met. Hemsworth said the quick courtship "just felt right" during an appearance with Good Morning Britain in March after the pair celebrated their five-year wedding anniversary. In the years following their marriage, the couple had three children: India Rose who they welcomed in 2012 and twin sons Tristan and Sasha, who were born in 2014.
The Spanish model/actress mom isn't one to shy from the social media scene either when it comes to her family. Recently, Pataky shared another photo of Hemsworth using his hunky muscles for a very important dad-duty as he baked a cake for his daughter's birthday, which depicted his version of an adorable Tyrannosaurus rex.
Hemsworth also posted a photo of the masterpiece. "What happens when the bakery says they don't have time to make your daughter's birthday cake?" he captioned the photo. "You get involved and smash one out yourself! I call it 'La TRex al la chocolate.'"
Pataky — known for her roles for in Fast Five, Fast & Furious 6, and Furious 7 — often makes her followers crumble with cuteness when she shares these adorable family moments on social media, including beautiful shots of yoga with the kids and adorable snaps of dad whipping up some late night snacks for the tots.
These Instagram posts make it pretty clear that the Ghostbusters actor takes on his dad role full time and it's even more obvious how much he's loving every minute of fatherhood.
"Being a father is certainly a task," he told People in 2013. "But the best one that I could ever ask for. Being home, being with the family, that's what it's about."