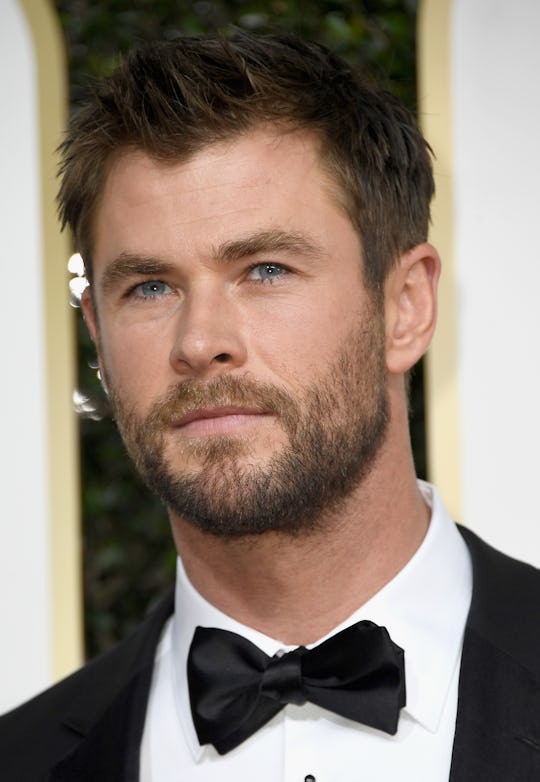 Frazer Harrison/Getty Images Entertainment/Getty Images
Chris Hemsworth's Kids Watched Him At The Globes
Just when you thought Chris Hemsworth's impossible cuteness couldn't get any cuter, his wife posted this picture of his three biggest fans cheering him on during his appearance presenting an award on Sunday night's Golden Globe awards. Chris Hemsworth's kids cheered on their dad at the Golden Globes, proving that home is where even the cutest (and most talented) actors' hearts really are while the cameras roll on Hollywood's glitziest events of the year.
Hemsworth took the stage early on in the evening's festivities, presenting the Golden Globe for Best Foreign Language Film with Gal Gadot, the star of the upcoming Wonder Woman reboot, according to E! News. They made a stunning pair of superheroes.
But out of the millions of fans watching at home, there were three little Hemsworths (in the care of an uncle) who seemed most excited to see their dad all dressed up in his tuxedo. Hemsworth's three kids with is wife Elsa Pataky were at home his Pataky's brother, who shared this adorable snap. Hemsworth has three kids, 4-year-old India Rose, and 2-year-old twin boys Tristan and Shasha, E! News reported.
Also please notice the Thor action figure in the picture, an homage to their dad's character in the upcoming movie Thor: Ragnarok. Too cute.
The sweet image was first posted by Pataky's brother Cristian Prieto, according to TODAY, with the caption, "Watching Papa on TV!" The picture was later re-posted on Instagram by their mom, who undoubtedly was missing her little ones.
And here's a picture of their proud parents making their way to the Golden Globes ceremony, where Pataky admitted the two were running late for the ceremony, writing, "We are late!! Hold on!"
And here's another image from the evening from Hemsworth with the sweet caption, "Heading to the Golden Globes, look at my hot date!"
Elsa, who it's worth noting once again, is the mother of three, stunned on the red carpet wearing a sheer Zuhair Murad gown, according to The Daily Mail.
The awesome couple looks like they had a pretty great date night. In an interview with Entertainment Tonight, Hemsworth said he needs his wife's help getting ready for these kinds of red carpet events. "(She) gives me confidence and makes me look good," Hemsworth told ET, according to CBS8. "She tells me how to dress. She gets me ready for the red carpet."
Nice job, Elsa. And that's one adorable brood the two are raising together.