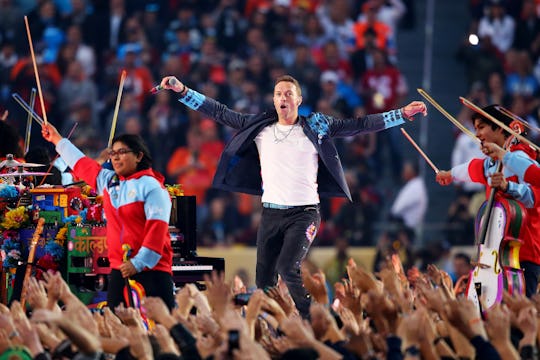 Maddie Meyer/GC Images/Getty Images
Chris Martin's Jacket During Super Bowl Halftime Show Gets As Much Hate As Coldplay's Performance
Coldplay took to the stage for the halftime show, and got plenty of attention with their strange '60s throwback. The true star of the show, however, was frontman Chris Martin's jacket during the Super Bowl Halftime Show. While "Paradise" is not terrible, the weird, disjointed hippie vibe happening on the stage was a little odd. (What was up with that, Chris?)
"Paradise" is also not the usual fight song or anthem you'd expect to rally the crowds and pump up energy — and Coldplay's generally mellow tunes were a cause for concern when they were announced as the halftime show. Coldplay seemed to remain upbeat despite some negative reactions, including a #BetterHalfTimeShows trend on Twitter.
At a recent press conference, Chris Martin said that any musician who plays at the Super Bowl "knows that it is the biggest honor, the biggest privilege, and they put their life and soul into it," according to Yahoo! News. And he seemed to do so during the show, by dressing in a hippie-style outfit and twirling in the midst of a multi-colored flower stage. It was all a bit of a throwback, but more of the kind you want to bury in your childhood closet than the kind you display with a hashtag. (Interesting choices.)
As it happened, Twitter was pretty vocal about their feelings on Chris Martin's jacket.
C'mon, Chris. Who thought that was a good idea?