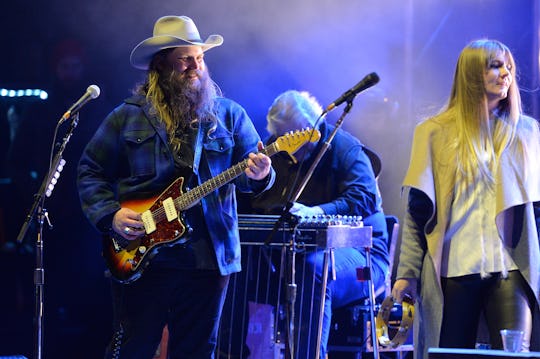 Jason Davis/Getty Images Entertainment/Getty Images
Chris & Morgane Stapleton's 'You Are My Sunshine' Cover Is A Must-Listen
After performing at the Country Music Awards with Justin Timberlake this past November, Chris Stapleton's career skyrocketed. According to The Tennessean, the singer's album sales jumped 6,000 percent. But the country music star has been generating hits for awhile, even with the simplest of songs. Most recently, a viral clip of Chris and Morgane Stapleton's "You Are My Sunshine" cover has been circulating — and if you haven't seen it yet, don't worry: The song is sure to be a hit with both parents and country music fans alike.
The 37-year-old singer-songwriter became the toast of the Academy of Country Music Awards this month winning a record six awards that night, including Album of the Year for Traveller, Song of the Year for "Nobody to Blame," and Male Vocalist of the Year.
In the most recent viral clip, recorded in Atlanta in 2013, lead singer Chris proves exactly why those awards were so deserved, handing the reins over to his wife at one point. Morgane Stapleton is immensely talented herself, having once been dubbed "the best pure country singer in town" by Nashville record executive Jody Williams, who applauded Morgane's stunning vocals. The couple reimagines "You Are My Sunshine" as a slow, bluesy folk ballad. Her hauntingly raw alto is complemented by Chris's gritty twang, harmonizing that is reminiscent of famed country-music couple Johnny and June Cash's onstage chemistry.
Parents who are sick of the xylophone-twinkling nursery song-albums can find refuge in the sultry, blues cover while country-music fans will appreciate a pared down song that highlights the couple's pure and traditional country harmonizing. Watch the live performance above or check out the recorded version on NPR. If you (and your little ones) are particularly in love with the piece, you can also purchase the song on iTunes.
While the husband-wife duo have been performing the American standard live for years, according to Taste of Country, it will be featured on Southern Family, a country concept album—available now on iTunes—from producer Dave Cobb featuring talent like Zac Brown, Miranda Lambert, and Hank Williams "celebrating their ties to the South."
Fans of the country singer who have their own tots can also find entertainment in Stapleton's archives: Check out some of the singer's other covers, like Lionel Richie's "Lady", which he covered at the 2016 pre-Grammy's gala. Stapleton also once joined the Kings of Leon onstage to play Lynard Skynard's "Simple Man" and you can find Youtube clips of the artist covering B.B. King's "The Thrill is Gone."
Since Miranda Lambert and Blake Shelton broke up, we've been looking for a new country couple to obsess over. Perhaps Chris and Morgane fit the bill.