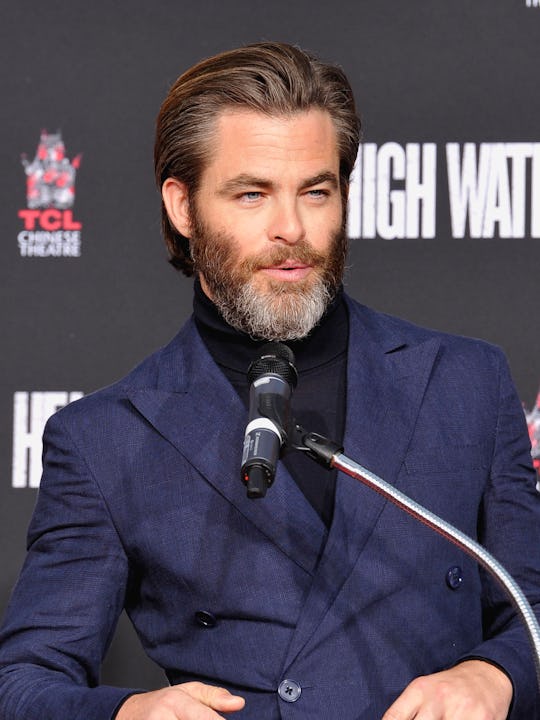 John Sciulli/Getty Images Entertainment/Getty Images
Chris Pine's Globes Look Had Twitter In A Frenzy
It's all in the name of a new role, but Chris Pine's beard was grey at the 2017 Golden Globes and Twitter wasted no time in having some thoughts on the matter. As a whole, no one seemed to have a problem with it. In fact, Twitter very much supported Pine's new, if only temporary, look. So why is the Star Trek star suddenly sporting such a drastically different look than his usual smooth-shaven, boy next door who is really gorgeous and beautiful appearance? Apparently, it's for Pine's role in the upcoming A Wrinkle In Time. And even though the 36-year-old actor is mostly known for his smooth face, there's no denying that Pine's grey hairs at the 2017 Golden Globes totally worked for him. Basically, he can probably adopt any new look and still be super attractive.
Even when he shaves the beard (which you know he eventually will), Pine won't be doing away with the Wolverine-esque look, should he grow it back again. In an interview with People magazine in October, Pine said, "I don't think there's anything less attractive than a man over-dyeing things on his face, so I'm going to try, for as long as I can, to age as my male forefathers before me." How noble of him.
As to be expected, Twitter has come out in total support of Pine's silver fox look, because honestly who wouldn't?
On the red carpet at the 2017 Golden Globes, Pine joked about his bromance with Jeff Bridges, who co-starred with him in Hell Or High Water in 2016. And it's obvious that with his new look, he's like the younger version of Bridges, and not many are hating it.
Pine is set to co-star in the Wonder Woman film in 2017 and if Pine is part of those sequels of the super-heroine movie, his awesome grey beard might not be around forever. But since he obviously has no problem embracing that side of himself and since he's totally down with being a dad sooner rather than later, the bearded look just goes hand in hand with that. There's no rule, per se, that you need to grow out your salt and pepper facial hair when you're a dad, but it would totally work for Pine either way.
But it's kind of the consensus at this point that regardless of the bearded or more fresh-faced look Pine sports, he's a dreamboat.