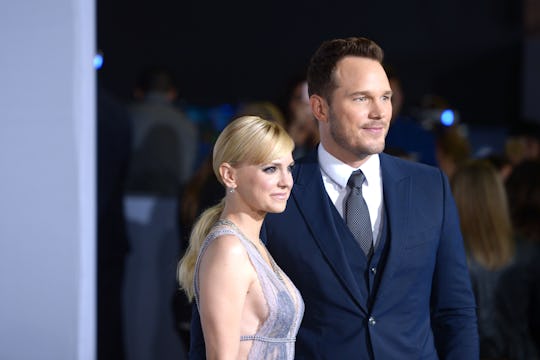 Matt Winkelmeyer/Getty Images Entertainment/Getty Images
The Inspiring Reason Chris Pratt & Anna Faris Are Reportedly Doing Couple's Counseling
Earlier this month, hearts broke all across the internet when one of Hollywood's most adored couples announced that they were separating. And now, weeks after their split, a new report claims that Chris Pratt and Anna Faris are doing couples counseling, according to People.
Could it be that the actors are working to put their marriage back together? Can fans dare to believe in true love again? Not quite, it seems, although the reported reason for the counseling involves another, equally inspiring kind of love. Apparently, Pratt and Faris are undergoing counseling for the sake of their son, Jack, as People reported.
A source confirmed to the magazine that the Guardians of the Galaxy actor and the Mom actress were seeing someone to help them move toward divorce in a healthy way. (Romper reached out to Faris' rep for comment and did not immediately hear back.) Reportedly, 5-year-old Jack is at the forefront of Pratt and Faris' minds during this tumultuous time. According to People, the source said:
They are going through couples counseling now, which is what you do when you want to divorce and there are children involved. It won't likely change the status but it could help with their future co-parenting... Their work separations have taken a toll, and it is not likely that the marriage can be repaired enough to work right now. But there is still love between them.
That's right. Even when it comes to divorce, Pratt and Faris are still #goals.
The stars have previously made it clear — time and again — just how much their son means to them. They've been open about how scary it was when Jack was born premature, and how thrilled they've been to have him in their lives every day since. Even their statement announcing their separation focused on Jack. In an Instagram post on Faris' page, signed by both Faris and Pratt, the couple wrote, "Our son has two parents who love him very much and for his sake we want to keep this situation as private as possible moving forward."
So it's no surprise that the two would do whatever is necessary make sure that they protect Jack during this sad time. Co-parenting can be difficult, and it has to be even tougher when the eyes of the world are on you, dissecting every move you make. Kudos to Faris and Pratt for putting in the extra work to make sure that Jack gets through the process in as healthy a way as possible.
Everyone's favorite couple may be separating, but there's still so much to admire in their relationship.