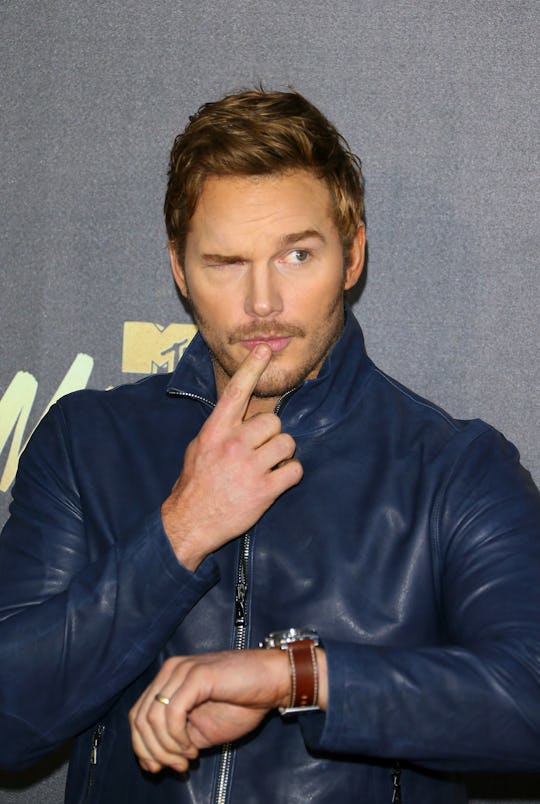 JEAN BAPTISTE LACROIX/AFP/Getty Images
Chris Pratt Cried When His Son Was Born, & 15 Other Times His Dad Game Was Fierce
During a recent episode of her podcast, Anna Faris is Unqualified, the actress revealed that her husband, actor Chris Pratt, cried during their son, Jack's birth, according to Marie Claire. "He's holding my hand and he's just sobbing," she recalled. "I was so scared he would be turned off by the whole thing, that he'll never be attracted to me again. But I don't know, that was amazing, seeing his face." I feel you, Anna. Seeing Chris Pratt's face during my son's birth would have been amazing, too.
This is far from the first time fans' ovaries have exploded in response to something Pratt has done. Throughout his career, we've seen him grow from a lowly pit-dweller to a U.S. Navy velociraptor trainer, and all the while, he's been second-only to President Obama in his adorable interactions with kids. My own kid is a fan, thanks to Pratt's roles in The Lego Movie, Guardians of the Galaxy, and Jurassic World, and to his credit, the boy has never questioned why I'll only play as Emmet, Star-Lord, or Owen Grady when we're playing video games together. Let's take a look back at all the times Chris Pratt was the absolute ultimate in Dad Goals (get ready to swoon).
That Time He Took Jack Bass Fishing
Obviously, little Jack is completely adorable, but watch dad Pratt interacting with him, and you just might die of cute overload.
And When He Encouraged Other Dads (And Moms) To Do The Same
Um, hi Chris, will you take me fishing too? What about if I tell you I had a crappy dad, does that help?
When He Explained How Jack Didn't Do The Terrible Twos
Apparently, you want your child to be polite, articulate, and profound, all you need to do is have Chris Pratt raise him.
That Time He Gave A Sick Baby A Baby Groot
...And then the baby touched his face and smiled and I cried a little because he's just so awesome, you guys! Chris Pratt is not just Jack's dad, he's everyone's dad!
Every 'Johnny Karate' Scene From 'Parks & Rec'
Including that one time they dedicated the whole episode to the Johnny Karate Super Awesome Musical Explosion Show.
When He Napped With Jack On The Couch
... Which, as we all know, is the absolute hottest thing a dad can do.
On Halloween, When He Retweeted All The Kids Dressed As Him
Now I'm really regretting Halloween 2014, when my kid went as Lord Business instead of Emmet, but whatever.
That Time He and Jack Flew A Kite
Where does one even buy a kite these days? I've honestly never seen anyone fly a kite in my life. It's just so damn wholesome! I bet they drank a big glass of milk once they got home.
When He Showed Off His Braiding Skills
If Jack ever has a sister, she's all set, hair-wise.
When He Maybe Played a Sea Chantey For Jack
Whatever is going on here, I'm 100 percent on board with it.
When He Let Jack Give A Penguin A Ridiculous Name
When Seattle's Woodland Park Zoo invited Pratt and Faris to name their newest baby penguin, they let Jack take the reins. Eagle the penguin is a penguin, not an eagle. This is like when people name their dog "Bear." (It's not a bear, dude. Let it be proud of its dog identity.) That name is silly, but Jack got away with it because he is a delightful little child whose dad wouldn't dream of squashing his creativity.
When He Went To Boston With Captain America
In 2015, Pratt and his Marvel colleague, Chris Evans, made a Super Bowl bet: if Pratt's Seahawks won, Evans would visit Seattle Children's Hospital dressed as Captain America. If Evans' Patriots won, Pratt would dress as Star-Lord to visit Christopher's Haven, a charity that provides temporary housing for families of children battling cancer. The Pats won, and Pratt made good (I considered stalking them at the time, but thought better of it). The pair later visited Seattle Children's Hospital even though the Seahawks lost, because they are the greatest superheroes ever.
When Dad Solidarity Was More Important Than Football
Pratt is a passionate Seahawks fans, but he was still classy enough to congratulate fellow father Tom Brady on his win, probably because he happened to be wearing a cute child in this picture.
When He Indulged In Jack's Fantasies
You and I may be impressed with Pratt's resume, but to a two-year-old boy, nothing tops a firefighter. What's the harm in letting him believe his dad drives a firetruck, anyway?
Oh, And He's Basically Raising The Next Jesus
While visiting SiriusXM's Morning Mash Up radio show, Pratt tells a touching story of an encounter he and Jack had with a "sketchy" guy in a park who was "probably on something." Pratt is convinced that Jack changed the man's life with one simple act. I need to meet this kid... And his dad, of course.