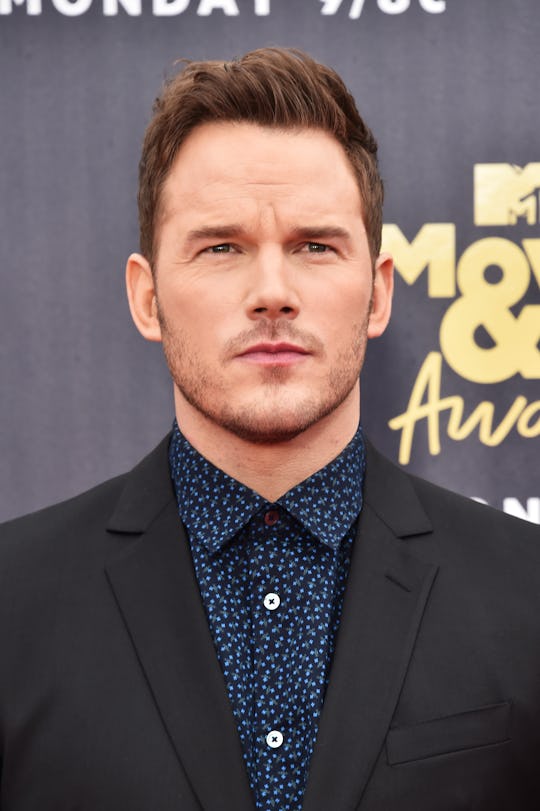 Alberto E. Rodriguez/Getty Images Entertainment/Getty Images
Chris Pratt Gave His 5-Year-Old Son Jack A Sweet Shoutout At The MTV Movie & TV Awards
The MTV Movie & TV Awards may have officially kicked off on Saturday, but the world tuned in on Monday to watch it go down from their living rooms. Among the accolades announced tonight was the Generation Award, which was given to Chris Pratt for his noteworthy contributions to film and TV through his roles in Jurassic World, Parks and Recreation, Guardians of the Galaxy, and Avengers: Infinity War. While he was accepting the honor, Chris Pratt gave his son Jack a sweet shoutout at it was pretty much the sweetest thing ever.
While walking the red carpet in Santa Monica, California before the awards show started, Pratt stopped to answer a few questions from Entertainment Tonight's Carly Steele. There, the 38-year-old actor spoke about his 5-year-old son, Jack — whom he shares with his ex, Anna Faris. "I think my love language is quality time, so when we can sit down and just be together and spend time together, just me and him," Pratt said. "That's probably when I'm the happiest and when he looks up to me the most." (Awww!) Pratt went on to share his Father's Day plans for Sunday, adding, "Church and I'm gonna lay low and swim in the pool. That's what we're going to do."
Later that night, there was the Generation Award acceptance, which featured a nod that special 5-year-old in the actor's life. Pratt's charismatic speech included plenty of passionate life advice — and a few practical pointers. (Like putting your dog's medicine in the middle of some hamburger so he'll eat it without the drama, how to poop at a party without everyone knowing, and "don't be a turd.") And of course, Pratt included a shoutout to his little guy, Us Weekly reported. "A special mention to my son, Jack, who will watch this one day," he said. "Kid I love you. I love you more than anything in the world." So sweet! (But seriously, though. If you have like 4 minutes, his speech is worth watching in its entirety.)
Another highly quotable Chris Pratt tip, in case you don't have the time to watch for yourself: "Strength and intelligence can be weapons and do not wield them against the weak" Preach!
Much to the dismay of fans, Chris Pratt and Anna Faris announced they were separating in August 2017, CNN reported. "Anna and I are sad to announce we are legally separating," Pratt wrote on Facebook. "We tried hard for a long time, and we're really disappointed. Our son has two parents who love him very much and for his sake we want to keep this situation as private as possible moving forward."
Since then, Pratt and Faris remained committed to co-parenting their son. Farris, 41, opened up to Extra back in January about how she and her famous ex are still friends — and that they believe co-parenting is "hugely important," People reported. She went on to say, "We are great and there's so much friendship and love, and we surround Jack with love, and funny, kind, happy people, and as a result, he is really happy." And in May, Pratt told E! News, "Divorce sucks. But at the end of the day, we've got a great kid who's got two parents who love him very much. And we're finding a way to navigate this while still remaining friends and still being kind to one another."
Although Chris Pratt has been through a lot in his personal life during the past year, it's pretty clear that he's currently in a good place. His career is humming along nicely, he's a pretty kick-*ss father, and he seems just as grounded as ever. I hope little Jack does watch the 2018 MTV TV & Movie Awards one day, so he can be properly proud of his father's accomplishments — and properly embarrassed of his poop advice.