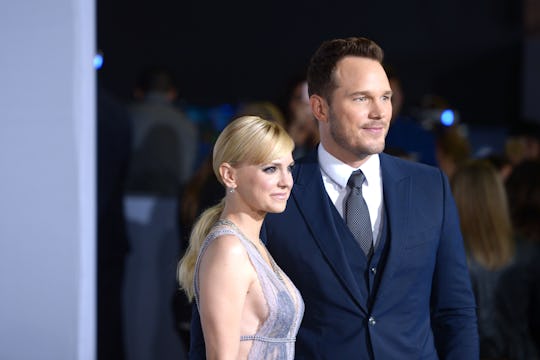 Matt Winkelmeyer/Getty Images Entertainment/Getty Images
Chris Pratt Reportedly Files For Divorce From Anna Faris, & Fans Are Heartbroken
When it was first reported that actors Chris Pratt and Anna Faris were splitting up after eight years of marriage in August, fans were understandably upset. The couple, who has one young son together, seemed to be one of those rare, solid, and unbreakable couples in Hollywood. But on Friday, hearts broke even further, because according to TMZ, Pratt reportedly filed for divorce from Faris — and it's not easy news to swallow.
As previously stated, TMZ was the first to report the very sad news on Friday evening. According to TMZ, both Pratt and Faris simultaneously filed the legal documents (that are reportedly "mirror images of each other") citing "irreconcilable differences." According to TMZ, both parties are asking for joint custody of their 5-year-old son, Jack.
If this feels like "old news" to you, then you're not entirely wrong. In early August, the couple announced that they were splitting up in a joint statement, shared to social media. Pratt wrote on Facebook, according to E! News:
Anna and I are sad to announce that we are legally separating. We tried hard for a long time, and we're really disappointed. Our son has two parents who love him very much and for his sake we want to keep this situation as private as possible moving forward.
But this Friday, they finally filed for that legal separation, according to TMZ. Fans weren't happy, to say the least, taking to Twitter to express their dissatisfaction with the news.
Since announcing their split in August, the couple reportedly entered in couple's therapy, according to People, to make their relationship "work for their son" and seem to be on really good terms. In October, Faris opened up about her relationship with Pratt to People for the first time since the split, saying:
We'll always have each other and be incredible friends. There is still so much laughter in our lives together, and he is so proud of me, still. We watched each other grow, and he still cracks me up all the time. And I think I crack him up — unless he's a really good actor and great at faking laughter.
Because they're on such good terms and fans have grown attached to the couple, Faris told People that she could see why they would be emotional about the news. Faris said, according to People:
It's understandable that people seem so invested in our happiness together. All I can say about that is, it's all true, that we truly adore each other, and we love each other, I think that it still comes through.
Their love for each other definitely comes through and came through when Pratt penned the foreword to her book, Unqualified, that was published in October. In the foreword, Pratt had nothing but nice things to say about Faris, even mentioning, according to New York Daily News, that a lot had happened between them and their relationship throughout the time the book had been written.
But Faris has been honest, too, about their marriage. During an August episode of her podcast, "Anna Faris Is Unqualified," Faris thanked fans for their love and support during their divorce at the time and made her own admissions about her relationship to a podcast listener who asked for relationship advice. "Life is too short to be in relationships where you feel this isn't fully right, or somebody doesn't have your back, or somebody doesn't fully value you," Faris said, according to USA Today. "Don't be afraid to feel your independence if things aren't right."
While it might be easy to get very emotional about a couple that seemed to have it all, it is important to respect their privacy at this time, especially since they have a young child. Fans can be assured, according to TMZ and E! News, that the divorce was "totally amicable." And if this is the case, then fans should be supportive of the couple and their decision to move on to new things.