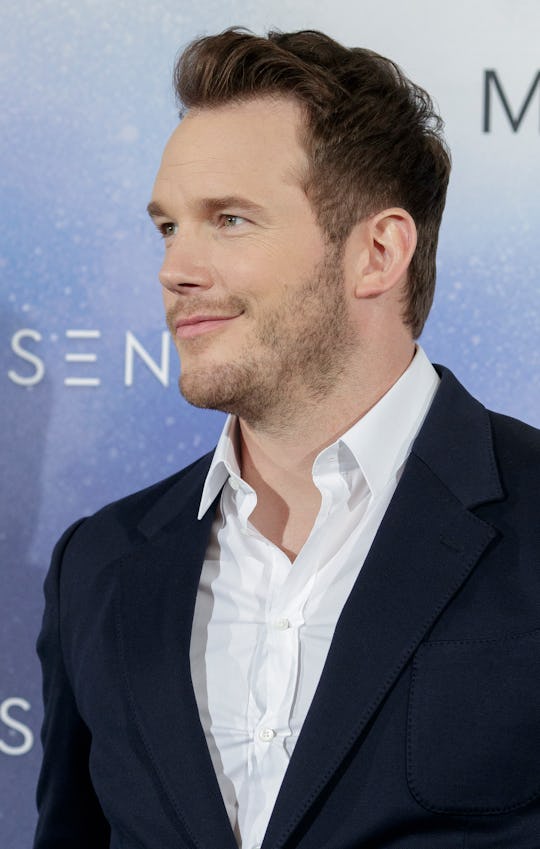 Eduardo Parra/Getty Images Entertainment/Getty Images
Chris Pratt's Son Thinks He Drives A Spaceship To Work
Four-year-old Jack Pratt has some pretty cool parents. Born to actors Chris Pratt and Anna Faris, Jack even gets to visit his dad at work sometimes. On Monday night's Jimmy Kimmel Live, Chris Pratt said his son thinks he drives a spaceship to work after observing all the goings-on in a tour of the Guardians of the Galaxy set. Whereas Jack may not be 100 percent on the mark with this one, you've got to admit that the mix-up is pretty precious.
"I would imagine, like, your kids, those of you who have little kids, must go nuts knowing that their parents are part of this," Kimmel asked of the Galaxy guests on his show. Pratt explained it all to Kimmel, saying, "[Jack's] just now starting to get" all that's really going on:
My little guy got to come to set, our director James, his nephew Will was there, and they're around the same age… we got to tour them around the Guardians' spaceship. And you saw it in his eyes…"I guess my dad really does fly a spaceship to work." And I was like, "Yes, son, yes I do."
Co-star Michael Rooker commented on watching Will and Jack realize everything: "It's just absolutely adorable, you look at their eyes and they're going, like, 'wow.'"
Pratt's kids aren't the only ones getting a kick out of seeing their parents fly through space. Zoe Saldana also added that her kids' perception of her has changed since the films first came out, sharing: "Well, my kids think that I'm related to the Hulk so I'm using it and I'm getting them to eat their vegetables." Though it might not work for everyone, it's an excellent strategy.
You can watch this part of the interview below:
Whereas Jack gets hop around movie sets and see work-ready spacecraft now, it hasn't always been so easy for him. Born prematurely, "Jack went from a small helpless little squirt to a strong, happy, funny, and vocal boy," Pratt shared a few years ago, saying that the family felt so happy to have gotten past those trying early moments. "I just prayed that he'd be here long enough," Pratt shared, "and he was going to let me keep him."
After all of that, Pratt and Jack get to have even more sweet moments, showing off a ton of family fun on his Instagram account. While shooting, Pratt was lucky enough to be able to bring Jack on set and show him the ropes, but don't be surprised if, next time around, Jack might expect something a little bit bigger — like a trip through space on his very own spaceship, perhaps?