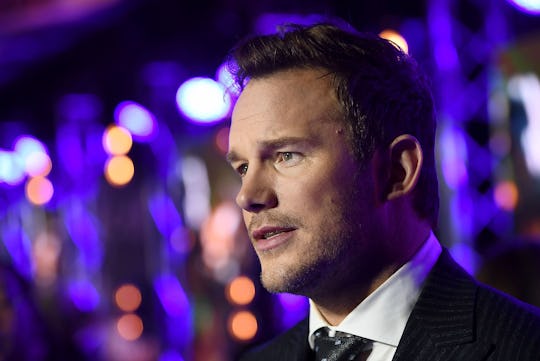 Ian Gavan/Getty Images Entertainment/Getty Images
Chris Pratt Thinks Burt Macklin Should Be FBI Director
When Donald Trump fired FBI Director James Comey on Tuesday, everyone was shocked, including Comey himself. In the wake of Comey's firing, a lot of questions have been asked — such as, why would Trump fire Comey? How will this impact current investigations? And perhaps most importantly, who will replace Comey in his job as director of FBI? Thankfully, there now seems to be an answer to that last question, as actor Chris Pratt humorously suggested that Special Agent Burt Macklin should be the new FBI director this week — and everyone on Twitter pretty much agreed (except maybe President Trump).
No one saw Comey's firing coming — not even Comey, who learned about his firing from a TV news report during a meeting with FBI agents in California, according to CNN. According to White House Principal Deputy White House Press Secretary Sarah Huckabee Sanders, the president had reportedly been thinking about firing Comey for a while, according to The New York Times. This likely means that the president has probably had plenty of time to think about hiring a replacement for Comey.
But if he is still looking, Chris Pratt has the perfect suggestion. On Wednesday, Pratt tweeted in response to Comey's firing with a hilarious gif of fictional Special Agent Burt Macklin, the alter ego of Pratt's Parks and Recreation character, Andy Dwyer. (It'll be a tough sell though, as Macklin was fired from the FBI for stealing rubies.)
Honestly, Macklin would make a fantastic replacement. I mean, he does have FBI experience already, and just look at the way he's willing to dive into the job:
And if you think that the folks over at the FBI immediately turned up their noses at the suggestion... think again: The FBI previously acknowledged Macklin's presence in 2015, tweeting in response to the Parks and Recreation series finale, "Your ways were unconventional, but you'll be missed Macklin."
Over on Twitter, Macklin has even more fans enthusiastic about the idea of their favorite agent taking Comey's place:
All jokes aside, Macklin is unfortunately a fictional character. So, unless Pratt is willing to give up his career as a movie star and join the FBI, rise through the ranks in a week, and suddenly become an expert in all things justice, it's unlikely that Pratt or Macklin will replace Comey. (Sad.)
To be fair, he's not exactly missing out on anything exciting. It's not like being the director of the FBI at this point in time will be an easy job; According to Reuters, tensions are rising between Democratic lawmakers and the president over the timing of Comey's dismissal and his investigation into Russia meddling in the 2016 election. The transition into becoming the director of the FBI will certainly be rough for whoever takes up the challenge.
Still, we're all allowed to dream. And if not the FBI... Macklin/Snakehole 2020?